New figures from the Central Bank show that the average interest rate on new Irish mortgages in July fell to 2.63%, the fourth fall in a row.
Irish mortgage rates were the fourth highest in the euro zone in July, coming behind Greece, Latvia and Germany.
This is the first time in over two years that Irish mortgage rates have not been within the top three most expensive countries.
The average for the euro area rose to 2.08% in July - the highest level since at least August 2017. The Central Bank said the rate varied considerably across countries.
Ireland, along with Malta and Greece, were the only countries in the euro zone to see a fall in their mortgage rates in July.
All other countries saw a rise in their average rate, some of which were significant.
France again has the lowest average mortgage rate in the euro zone at 1.45%, followed by Austria at 1.79%.
The Central Bank said the weighted average interest rate on new fixed rate mortgage agreements, which account for over 88% of all new agreements, stood at 2.5% in July, down 12 basis points on the same time last year and down two basis point on the previous month.
We need your consent to load this rte-player contentWe use rte-player to manage extra content that can set cookies on your device and collect data about your activity. Please review their details and accept them to load the content.Manage Preferences
The weighted average interest rate on new variable rate mortgage agreements decreased 15 basis points to 3.6%, today's figures also show.
The Central Bank said the total volume of new mortgage agreements amounted to €840m in July, an increase of 17% on July last year and an increase of 2% on the previous month.
Daragh Cassidy, Head of Communications at bonkers.ie, said that mortgage interest rates in Germany are now higher than they are in Ireland, which no one would have predicted a few months ago.
---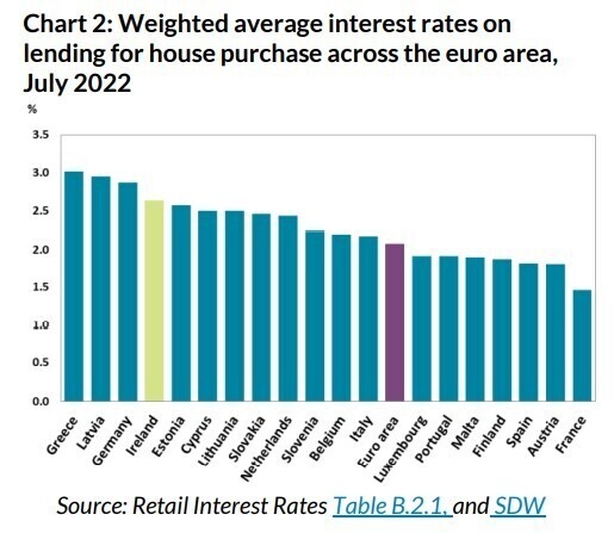 ---
"Unfortunately for homeowners the ECB has signalled that it will continue to raise rates over the coming months," Mr Cassidy said.
"It's likely that the ECB will raise rates to around 2% before the end of the year and they may even go close to 3% in 2023. Most of this increase will eventually be passed on to mortgage customers. How much depends on the competitive pressures the banks feel under," he added.
Rachel McGovern, Director of Financial Services at Brokers Ireland, advised borrowers to concentrate on getting the best mortgage rate available in the Irish market and do so in the very short window left before the ECB raises its rate further.
Ms McGovern said current rates, even though ahead of the euro area average, are the lowest we've seen and can now be locked in for longer periods of up to twenty five years and longer, depending on the lender.
"Some lenders have already moved to increase these long-term fixed rates, and time may be running out on the best deals," she said.
She advised anyone in doubt to contact a mortgage broker.
"Experts know the best options to suit individual circumstances, and they know all the pathways towards best value, such as whether or not someone on a relatively short-term fixed rate should pay the cost of exiting that rate to get a longer term," she added.