Residential property prices rose at the slowest rate in almost a year in July, climbing 13% year-on-year, compared with 14% in June, new Central Statistics Office figures show today.
Property prices outside Dublin were 15.2% higher than a year earlier, while Dublin residential property prices saw an increase of 10.4%.
The CSO said that Dublin house prices increased by 10.5% and apartment prices were up by 9.6%.
It noted that the highest house price growth in Dublin was in Fingal at 11.8%, while Dún Laoghaire-Rathdown saw a rise of 9.1%.
Outside Dublin, house prices were up by 15.3% and apartment prices rose by 13.4%.
The region outside of Dublin that saw the largest rise in house prices was the West (Galway, Mayo, Roscommon) at 19.1%, while at the other end of the scale, the Mid-West (Clare, Limerick, Tipperary) saw a 12% rise.
Today's figures show that the median price of a home bought in the 12 months to July was €295,000.
The lowest median price for a house in the period under review stood at €145,000 in Longford, while the highest median price was €610,000 in Dún Laoghaire-Rathdown.
Meanwhile, the most expensive Eircode area over the last 12 months was A94 'Blackrock', with a median price of €720,000, while H23 'Clones' was the least expensive at €117,500.
The CSO said that property prices nationally have now increased by 124.7% from their trough in early 2013.
Dublin residential property prices have risen by 128.1% from their February 2012 low, while home prices in the rest of the country are 129.9% higher than at the trough, which was in May 2013.
Today's CSO figures show that a total of 4,443 home purchases were filed with Revenue in July - a 16.2% increase compared with the 3,822 purchases in July last year and an 8.7% increase compared with the 4,087 purchases in June.
The total value of transactions filed in July was €1.6 billion.
---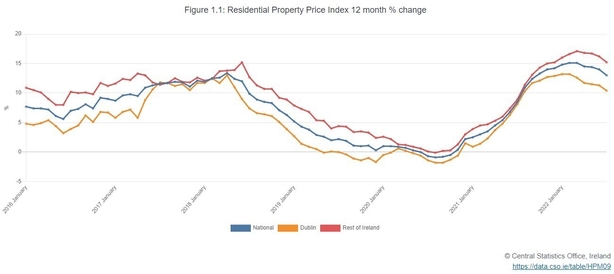 ---
Existing homes accounted for 80.2% of the purchases filed in July, an increase of 10.6% compared with the same time last year, while 19.8% were for new homes, a jump 46.4% compared with July 2021.
The CSO said the national Residential Property Price Index showed a reading of 164.9 points in July, which is 0.8% above its highest level recorded at the peak of the economic boom of the Celtic Tiger in April 2007.
Home prices returned in June to levels not seen since a credit-fuelled peak of 2007 that led to a property crash.
Analysts have this time attributed price growth to a lack of supply rather than an overabundance of credit.
Commenting on the figures, Brokers Ireland, which represents 1,225 broker firms said the July figures would not have captured the 0.5% ECB interest rate in July or the greater 0.75% hike in August.
"We would anticipate that this level of growth will slow further for the remainder of the year," said Rachel McGovern, Director of Financial Services at Brokers Ireland.
She also pointed to this week's BNP Paribas Real Estate Ireland Construction PMI which found that roughly 28,000 new homes are expected to be built this year, more than a third up on last year's total of 20,433 units.
"This is clearly another factor likely to impact prices, but much more needs to be done to make prices affordable, particularly for first-time buyers," she said.