At Shannonside Galvanising just outside Limerick city, they know all too well the effects of the energy crisis.
The company galvanises all sorts of products for customers, from gates to vacuum tankers, and bridges to balconies.
It is an energy hungry process, that involves first immersing steel into acid to clean it and then into zinc ammonium chloride.
The metal then goes into a drier before it is immersed in a huge bath containing molten zinc that is kept at a constant temperature of 451 degrees Celsius by gas.
"It uses a lot of natural gas and our bills have gone up exponentially in the past number of months, since November really," said Dermot O'Brien, general manager of Shannsonside Galvanising.
To be more precise, the company is paying five times what it did a year ago for energy.
It has absorbed what it can of the extra cost, and reluctantly passed the rest on to customers.
But that is only half of why the business is concerned right now.
"And now we are worried will we have supplies. If our zinc kettle isn't running, the zinc will obviously go hard," Dermot O'Brien added.
The kettle has to be heated 24/7, 365 days of the year to prevent it hardening.
For every hour that there might be disruption to supply, it will take twice as long as that to get the zinc back up to temperature again.
Any disruption to supply is therefore not an option, nor is willingly turning the burners off for periods to save money.
"We are really, really worried about being cut-off, about rationing as that won't work for us," Mr O'Brien said.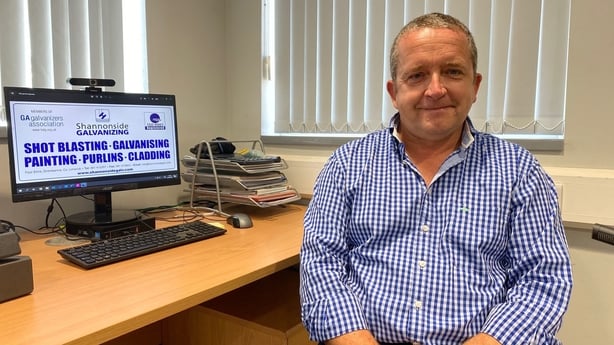 The company has a backup generator to power the plant, but the question about how to replace the mains gas supply is not easily answered.
"Don't know, is an honest answer, because if we are not dipping we are not making money, if we are not making money we can't pay our gas bills," Mr O'Brien said.
"It is as simple as this. If we are down for a couple of days because of no gas, we'll be down for a couple of weeks building back up again."
And the problem would be wider than just the company - its customers who rely on it because of the large size of its zinc kettle, would be impacted too.
Tánaiste Leo Varadkar has promised that the Government will intervene to help businesses cope with rising energy prices.
Mr Varadkar held a pre-Budget consultation with a wide range of stakeholders today, mainly representing small and medium-sized enterprises.
Speaking afterwards, he said: "During the pandemic, the Government intervened to save countless jobs and businesses. For many businesses, the energy inflation crisis is comparable. It requires a response of sufficient scale, and that will happen."
More details will be announced as part of Budget 2023 later this month.
The chilling effects of the energy crisis are also being felt by CGI Food Park.
We need your consent to load this rte-player contentWe use rte-player to manage extra content that can set cookies on your device and collect data about your activity. Please review their details and accept them to load the content.Manage Preferences
It runs two enormous cold storage facilities in Dublin and Cork, capable of holding 33,000 pallets of chilled and frozen food.
"This energy issue now is the biggest challenge that we have faced in the history that I'm in the business, which is about 20 odd years," said Padraig O'Connell, managing director of CGI Food Park.
"We use 27,000 units of electricity a day. Our power costs between 2015 and January 2021 on average was 10 cent a unit, which amounts to €2,700 a day," he stated.
"To date this year we are averaging around €9,000 a day and over the past 15 days in particular because of the lack of wind and gas prices surging, we're hitting €14,000 and €15,000 a day. And we are heading into the winter now and we really don't know where we are going," he added.
The company has already reluctantly applied an energy surcharge to its customers.
"If we didn't get a surcharge, we just wouldn't exist this year. It is as simple as that," Mr O'Connell said.
Because the service it offers is effectively part of the food chain, the costs then get passed on to shoppers buying the goods in the supermarket.
It has also faced a range of other inflationary pressures, many of which it has had to absorb itself.
The business has already installed solar panels in Cork which are helping to generate electricity there.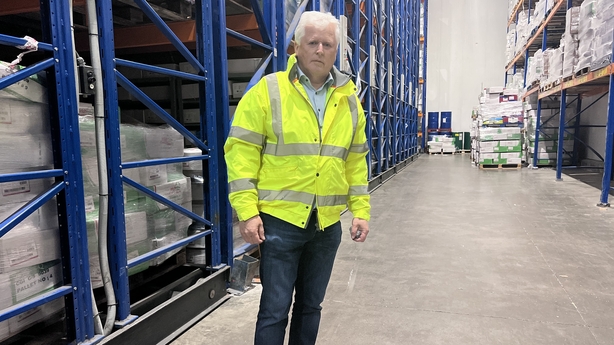 But Mr O'Connell is critical of the level of State support for such energy saving initiatives, which have prevented the company from adding more.
"I'd like to see the Government really helping people to do the microgeneration, I think it is the future," he said.
Instead, it is now exploring the installation of diesel generators which could help with any threat to supply, and if wholesale energy costs keep rising might even prove a cheaper way to power the plants.
Because it is a large energy user and can cope with short interruptions to electricity supply, the company is part of a scheme where when the grid comes under pressure Eirgrid can ask it to shut down the refrigeration compressors temporarily, in return for a rebate.
"Prior to this year we might have got a request maybe twice a month to trip out. Now I'd say it is four times a week," he claimed.
Hair salons feeling the heat
Zeba Hairdressing has four salons in Dublin and employs 70 people.
Their hair driers, air conditioning, heating and other equipment do not use as much energy as a large cold storage facility. But nonetheless, they are feeling the heat of rising energy bills.
"Around 40%," is what director Paul Dromgoole says they are now paying above what they had been shelling out for gas and electricity a year ago.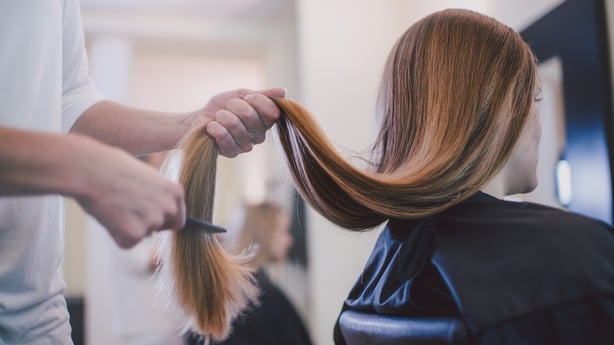 Some of the salons are fixed into particular tariffs, but Mr Dromgoole is concerned about how much the costs will jump when they end.
"Where we were able to fix before at a lower rate, there will be no lower rates available," he said.
Yet the business like so many others, has no choice when it comes to its use of energy.
"We can't switch off lights, we can't turn off hair driers, so we just have to move forward," he said.
The prices they charge have increased slightly to reflect all the rising input costs.
"I think after Covid people had disposable income, I think we seem to have spent all that and now we are into real time here," he added.
"I am very concerned about having to increase the price slightly because consumers are tight on their spending and we don't want to lose any consumers and we want to continue to give the quality service that we have always given and keep that consumer in," he stated.
He would like to see some kind of assurance from the Government that energy bills will not rise any further so they can plan and budget ahead.
"But when you are in the dark, it is very hard to budget moving forward," he added.