The recovery in the tourism sector continued into August, but a warning that soaring energy inflation and a deteriorating global economic picture could halt momentum has been issued.
According to the latest industry analysis by the Irish Tourism Industry Confederation in association with AIB, over 1 million visitors came to Ireland in August.
That was down 11% on the same month in 2019, the last year of 'normal' trading activity prior to the Covid-19 pandemic.
Comparing the first eight months of the year to the same period in 2019, there was a 21% lag on visitor numbers, which is described by ITIC as an 'improving trajectory'.
Tourism employment is still down 7% on the same period in 2019, the latest tourism dashboard noted.
Hotels and restaurants - among the biggest consumers of electricity in the economy - reported energy bills soaring to 'unsustainable and unprecedented levels'.
The Confederation called for substantial supports for the industry in the budget.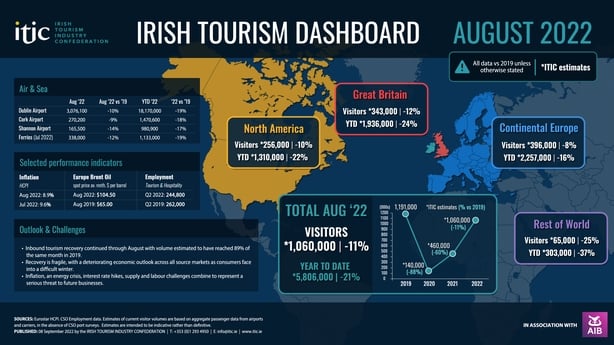 "As well as a cost-of-living crisis there is a very real cost-of-business crisis," Elaina Fitzgerald Kane, Chairperson of ITIC said.
"Government must shield enterprises with a significant energy support package and must maintain Irish tourism's competitiveness and investment at this critical time."
Eoghan O'Mara Walsh, CEO of ITIC, called on the Minister not to proceed with plans to restore the reduced 9% VAT rate on tourist related activities to 13.5% next year.
"Increasing VAT on business will only fuel a raging inflationary fire and makes no sense. It will add cost to the system, damage demand, and threaten recovery," he said.