The volume of building work in the economy shrank by 4.5% in the second three months of this year, according to new figures from the Central Statistics Office.
On an annual basis, compared to the second quarter of 2021 - during which some Covid restrictions were still in place - the volume of construction is up 3.2%.
Today's figures show that non-residential buildings fell by 6.7% compared to the first quarter of this year. Residential construction fell by 2.9% while the Civil Engineering sector fell by 0.9%.
Because of the impact of inflation in the sector, the value of what was built went up by 3% compared to the first quarter and by 12.6% compared to the same period in 2021.
This means it is costing more to have less built.
Production levels in the construction sector overall are 9.8% below what they were in the second quarter of 2019, pre-Covid, the CSO noted.
---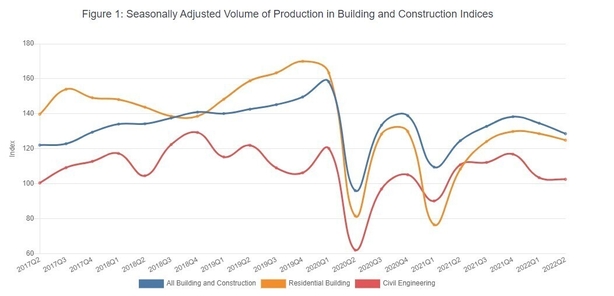 ---