Russian gas giant Gazprom has said it has received a formal warning from Russian regulators that the idled Portovaya compressor station, which is supposed to push gas towards Germany through the Nord Steam 1 pipeline, no longer complies with safety requirements.
Gazprom had said last Friday that it had detected a leak of engine oil in the only turbine that was still working at Portovaya, and would shut off natural gas supply until it was repaired.
This afternoon, it cited Siemens Energy, which has done maintenance on Nord Stream 1 turbines, as saying that "the causes of oil leakage can only be eliminated by a specialised repair company".
Its statement said Portovaya was now a "hazardous production facility" and could no longer operate legally.
Siemens Energy said on Saturday that it had not been commissioned to carry out the work, and that the leak reported by Gazprom would not usually affect the operation of a turbine and could be sealed on site.
It also said other turbines were available for use at the Portovaya station.
Kremlin spokesman Dmitry Peskov has reiterated Moscow's position that problems with the supply of gas from Russia were entirely the result of Western sanctions.
Europe has accused Russia of weaponising energy supplies in retaliation for Western sanctions imposed on Moscow over its military intervention in Ukraine.
The Nord Stream pipeline, which runs under the Baltic Sea to Germany, historically supplied about a third of the gas Russia exported to Europe but it was already running at just 20% of capacity before flows were halted last week for maintenance.
Russian gas being supplied via Ukraine, another major route, has also been reduced, leaving the EU racing to find alternative supplies to refill gas storage facilities for winter.
Several states have triggered emergency plans that could lead to energy rationing and raising prospects for a recession.
This morning, European gas prices rocketed as much as 30% higher following the shutting of the Portovaya station.
The news stoked renewed fears about shortages and gas rationing in the European Union this winter.
The benchmark gas price surged as high as €272 per megawatt hour (MWh) when the market opened.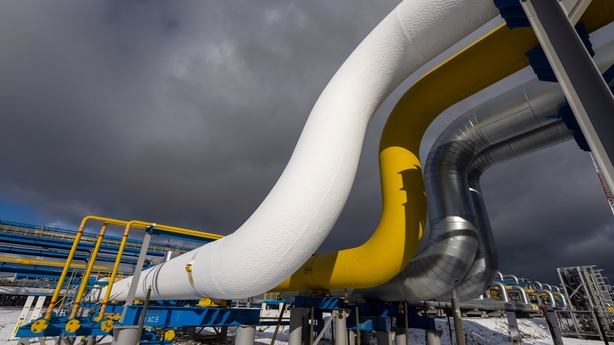 The Dutch TTF October gas contract had eased to €256, up 23% on the day by 7.30am but almost 400% higher than a year ago.
This year's price surge has squeezed struggling already consumers and forced some industries to halt production.
"Supply is hard to come by, and it becomes harder and harder to replace every bit of gas that doesn't come from Russia," said Jacob Mandel, senior associate for commodities at Aurora Energy Research.
Sky-high power costs have already forced some energy-hungry industries, including fertiliser and aluminium makers, to scale back production, and led EU governments to pump billions of euros into schemes to help households.
EU countries' energy ministers are due to meet on 9 September to discuss options to rein in soaring energy prices including gas price caps and emergency credit lines for energy market participants, according to a document seen by Reuters.
German Chancellor Olaf Scholz said over the weekend that Germany, the EU's economic powerhouse and Europe's largest gas consumer, had been preparing for a total halt in gas deliveries.
Germany is at phase two of a three-stage emergency gas plan. Phase three would see some industry rationing.
In its race for alternative gas supplies, Germany is rapidly installing temporary liquefied natural gas (LNG) terminals to enable it to receive gas from producers further afield, and it is planning to build permanent LNG facilities.
Norway, a major European gas producer, has also been pumping more fuel into European markets.
"There's plenty of scope to replace that (Russian) gas with LNG imports for now, but when the weather turns cold and demand starts to pick up in the winter in Europe and Asia, there's only so much LNG out there that Europe can import," Mandel said.
The global market for LNG was already tight as the world economy sucked up supplies in the recovery from the pandemic, even before the Ukraine crisis added to challenge.
Klaus Mueller, president of Germany's Federal Network Agency energy regulator, said in August that even if Germany's gas stores were 100% full, they would be empty in two and a half months if Russian gas flows were halted completely.
Germany's storage facilities are now about 85% full, while facilities across Europe hit an 80% target last week.
Although Russian gas has still flowed to Europe via Ukraine, albeit at reduced levels, analysts said those supplies could also become a casualty of the conflict.