The Exchequer recorded a surplus of €6.3 billion at the end of August, according to figures released by the Department of Finance this afternoon.
In the eight months to the end of August, tax revenue is just over 26%, or €10.4bn, ahead of where it was this time last year.
These Exchequer figures for August will give a timely boost to Minister for Finance Paschal Donohoe when he delivers the Budget at the end of this month.
It is also likely to add to pressure on Minister for Public Expenditure and Reform Michael McGrath to accommodate spending demands in the face of escalating inflation.
On a 12-month rolling basis, which the Department of Finance prefers to use, the Exchequer surplus now stands at €5.6bn.
Once again, there has been a surprise boost from corporation tax. August is not normally a month when much corporation tax is collected.
However, almost €2.8bn was collected, which was €1.7bn more than in August last year.
Cumulatively in the year to date, the Exchequer has collected €2.6bn more in corporation tax than it had forecast.
Income tax continues to perform strongly, up over €2.6bn or 16% in the eight months to the end of August, compared to the same period last year.
VAT receipts are up almost 24% or €2.3bn over the same period, but some of this increase is due to comparisons with months when Covid restrictions were in place.
---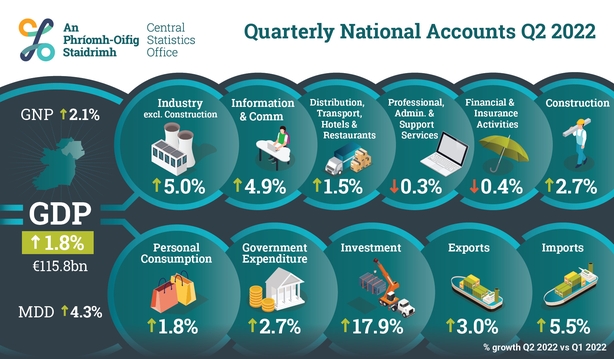 ---
Meanwhile, the economy continued to grow strongly in the second three months of this year, according to figures released by the Central Statistics Office.
Measured by Gross Domestic Product (GDP), the economy grew by 11.1% on an annual basis, today's CSO figures show. GDP takes in the performance of multinationals.
When measured by Modified Domestic Demand (MMD), which tracks the domestic economy more closely, the economy grew by 10.6% in the second three months of the year, compared to the same period last year.
GDP grew by 1.8% in the second three months of the year compared to the first quarter and MDD grew by 4.3% over the same period.
According to the CSO, the economy has grown by 11% in GDP terms in the first half of the year, compared to the same period in 2021, while MDD grew by 11.7%.
Today's figures show that the performance of the economy from April to June was marked by a recovery in spending by consumers on services as society emerged from Covid-19, but also by a strong investment in housing and industry.
Consumers spent more on services such as foreign travel, while companies spent more on investments such as machinery for production lines, data centres and computer hardware.
More houses were also built during the second quarter.
The impact of rising inflation was also in evidence, however, with consumers spending more but getting less in return.
We need your consent to load this rte-player contentWe use rte-player to manage extra content that can set cookies on your device and collect data about your activity. Please review their details and accept them to load the content.Manage Preferences
Commenting on today's CSO figures, Minister Donohoe said they confirm that the domestic economy has rebounded strongly as Covid restrictions were finally removed.
"This is the first quarter in which consumers were uninhibited by pandemic related restrictions and it is encouraging to see the rebound in activity, with consumer spending growing 1.8% over the quarter," Mr Donohoe said.
"Indeed consumer spending essentially returned to pre-pandemic levels in the second quarter, a very notable outcome," he added.
The minister said that the robust consumer spending growth is also reflective of the buoyant labour market conditions, with a record level of well over 2.5 million people at work.
"These trends are also in-line with strong growth in VAT and income taxes recorded so far this year. Earlier this week, data showed that the unemployment rate was just 4.3% in August - so we are seeing very low unemployment and strong employment even after the Covid supports were removed; this is very encouraging," he added.
Mr Donohoe also said he was heartened to see that private sector investment in the domestic economy remains strong, despite mounting geopolitical uncertainty.
But despite the strong rebound in activity evident in today's figures, the minister said he was conscious that a number of indicators suggest that momentum has eased in the third quarter while the outlook over the coming quarters has weakened considerably.
"Global inflationary pressures, resulting from the surge in energy prices from Putin's war, are eroding real incomes and undermining growth prospects both domestically and in our main trading partners," he said.
Mr Donohoe said the Government is committed to tackling the cost of living challenges head on and the forthcoming Budget will set out a range of supports to help alleviate the inflationary pressures on society.
"In doing so we must strike a balance between protecting the most vulnerable households and firms from a once-in-a-generation energy price shock, while at the same time ensuring that policy doesn't worsen the inflationary cycle," he added.