LEGO is opening the doors to its first store in Ireland on Dublin's Grafton Street.
The shop touts a new 'retailtainment' concept, which will feature in-store immersive play experiences.
Shoppers will also have the chance to create personalised products, such as custom minifigures, choose specific items for their build from the 'Pick a Brick Wall' and compete in monthly build challenges.
The store will also feature 3D LEGO models inspired by Irish culture and Dublin city.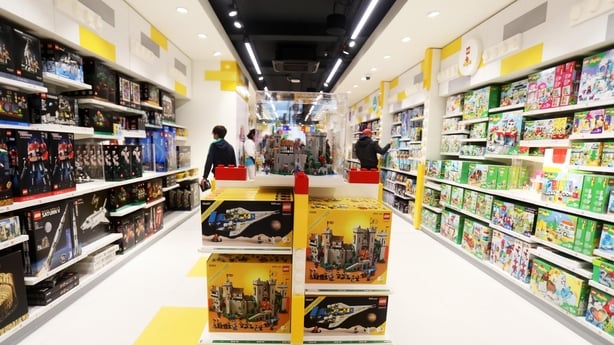 LEGO promised that fans of the famous brick toy "will see the new features and the uniquely Irish themes displayed throughout the store while immersed in the LEGO magic that will turn Grafton Street into Ireland's very own LEGO-land".
Head of marketing for LEGO UK and Ireland Isabel Graham said that LEGO has taken "a series of bold moves" to promote sustainability.
Speaking to RTÉ News, Ms Graham said: "We are building a better planet for future generations at the heart of everything that we do.
"We've done a series of bold moves over the last ten years to ensure that we leave a positive impact on the planet and our focus is on creating more sustainable products, achieving zero waste and carbon neutral operations, but also to inspire children to learn about sustainability through play in collaboration with the LEGO foundation."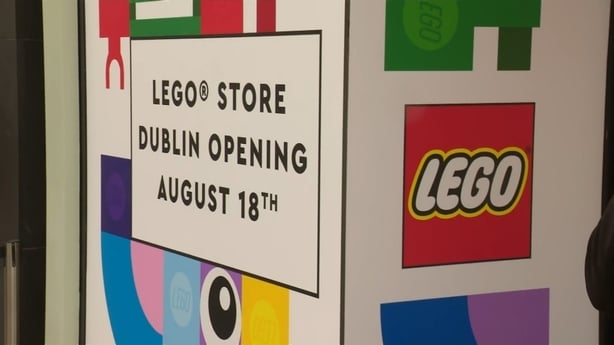 "We're delighted to be opening our first ever LEGO Store in Dublin and we'll be giving our current and future fans what we're calling an immersive retail experience. There's lots of fun and amazing features here at the store.
"You can come in, and there's lots of fun creative building activities. We've got great models inspired by Irish landmarks and local culture.
"You can build a mini figure in your likeness at our LEGO Minifigure Factory and then our amazing store staff can help you find the set that you're after, answer all your questions or just have fun, so it really is a great experience to come into the store."
Ms Graham said that LEGO is for "kids and playful souls of all ages".
She said: "It has evolved over the years from wooden toys back in the '30s to the iconic bricks that we know today, and it's a digital experience as well.
"But providing our consumers with playful experiences just remains at the heart of everything that we do and everyone is having fun and a lot of adults are having fun playing and building with Lego these days as well."
She said that LEGO has had "enduring appeal" down through the generations.
"I think that's the great thing about LEGO that you can build what's on the box, but every box also allows you to be creative and imaginative and build exactly what you want and whether that's a hot dog truck with a fish on it or whether you want to build exactly what's on the box.
"It's really up to you, so that's I think also why Lego play has its enduring appeal and we've just celebrated our 90th anniversary and still provide relevant play today," Ms Graham said.