Tillage farmers and agricultural advisors are reporting a bumper summer harvest as a result of unusually good weather, strong yields and high international prices for grain.
In some parts of the country, as much as 80% of the summer harvest has been completed because of the prolonged spell of dry conditions that have made cutting easier.
Farmers are also reporting exceptionally low moisture levels because of the absence of rain and high yields driven by a range of weather factors earlier in the growing cycle.
"We are probably a week or maybe ten days ahead of where we would normally be," said Shay Phelan, a crop specialist at agricultural advisory agency Teagasc.
"Normally harvest would continue on through August and finish up in early September," Mr Phelan said.
"But talking to guys over the last number of weeks, with the exception of the northwest, we'd anticipate the main bulk of the harvest will be completed by the end of next week, the middle of August, which is probably a good ten days ahead of where would normally be," he stated.
Normally the total harvest for the country comes in at around 2.3-2.4 million tonnes.
But with yields up this summer, the figures so far suggest it could be higher than that, possibly close to the record yield of 2016 of 2.6 million tonnes.
This has been coupled with unusually high prices for grain, driven by supply shortages internationally because of the war in Ukraine.
Ukraine is a huge producer of grain and until recently exports had not been able to leave the country in bulk.
As a result, grain is currently getting €50-100 a tonne more than the usual average of €200.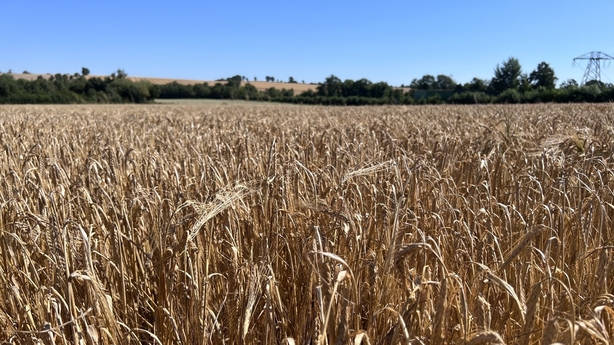 Despite the positive current picture though, farmers are concerned about what lies ahead.
According to the Central Statistics Office, input costs have risen by 40% in the last year as a result of the energy crisis and a doubling in fertiliser prices, caused by the Russian invasion of Ukraine which is a huge producer of fertilisers.
In the same period, output prices at the farm gate have only risen by 30%.
Much of the input rises have happened in the past few months and so have not impacted the current harvest to a huge extent.
But farmers are now unsure what to plant next and in what quantities, in case input costs remain high but the prices they receive next year fall back to normal levels.
"There is an issue there going forward of is it worth their while putting in crops next year," said Frank Brady, regional chairman of the Irish Farmers' Association.
"The input costs, the diesel and everything else, and putting it into the ground next year is way ahead of where it was this time last year and they cannot afford to do it if they only get the same prices as they are getting now," he said.
While the unusually fine and dry weather, which climatologists and meteorologists have linked to climate change, has been a bonus to many tillage farmers, it has also brought increased difficulty for others involved in agriculture.
"Our vegetable and potato growers are suffering at the moment," said Shay Phelan.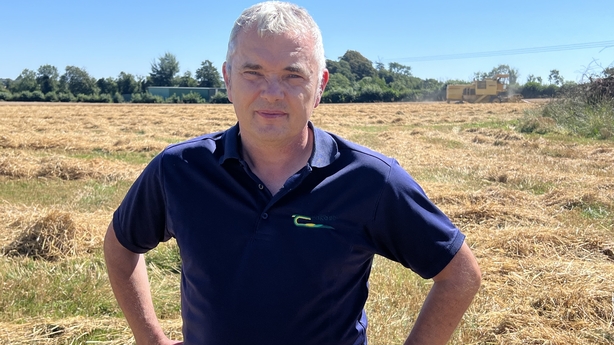 "Obviously they are not ready to be harvested yet, they are still growing. So those crops are under significant pressure from moisture and drought deficits," he said.
"A lot of those crops would be irrigated so our access to water actually is coming into question now," he added.
Brothers Dermot and Paul Ward were busy this morning harvesting the malting barley on their combined 100 acres of farmland near Navan in Co Meath.
"We've had good weather, we've had good crops and we've had good prices," said Dermot Ward.
Normally they would only be starting their harvest in mid-August but today it is 75% complete.
He said the five-year rolling average of moisture content in the crops would normally be 18-20%, but currently it is 12%.
They are selling their grain for around €100 a tonne more than they would normally get.
But it is not all positive news.
"Our input prices have really soared. A year and a half ago we bought tractor diesel for 38 cent a litre. And we just had a delivery this morning at €1.26 a litre," he said.
"Going forward we don't know what the prices will be next year because the Ukraine is really the Saudi Arabia of fertiliser also," he added.