Cutting excise duty on a pint of beer by one cent would cost the Exchequer €6.2m, according to new figures published by the Department of Finance.
The figures from the Tax Strategy Group aim to set out options ahead of next month's budget.
With the drinks industry calling for a cut in the tax in Budget 2023, today's figure give an estimate of how much such measures would cost.
For example, a cut of five cent on a bottle of wine would cost the Exchequer €3.2m, while a cut of five cent on a pint of cider would cost €4.2m.
The figures also set out how much increases in excise duty on alcohol could yield.
The Government left the excise duty on alcohol unchanged in last year's budget.
Ireland has some of the highest rates of excise duty on alcohol products in the EU.
"This reflects a long-standing policy to support public health objectives," today's paper states.
In May of last year the Government approved the introduction of minimum unit pricing for alcohol with effect from January 2022.
Today's paper states that it is too early to properly evaluate its efficacy in reducing alcohol deaths or its effect on the Exchequer.
However, it acknowledges that its introduction has resulted in price differentials on alcohol products across the border, which might lead to an increase in cross-border trade, undermining the tax take from alcohol sales.
The Tax Strategy Group also said that further increasing the excise duty on tobacco products in the upcoming budget may not lead to increased revenue yields.
The Government has increased this tax consistently in the budget over the past 20 years, with the exception of Budgets 2005, 2006 and 2010.
Rate increases of 50 cent on a 20 pack of cigarettes have been implemented in each of the last seven budgets.
This means Ireland now has some of the highest rates of duty on tobacco products, including on cigarettes and roll-your-own tobacco in the EU.
"This reflects a long-standing policy of levying high rates of excise duty on tobacco products to meet public health targets," today's paper states.
Despite consistent increases in excise duty, figures from the Department show that receipts have remained stable at around €1.1 billion per year.
The report states that successive rate increases are compensating for reductions in the volumes released for consumption.
Meanwhile, around 453 million illegal cigarettes were consumed in Ireland last year, resulting in a loss to the Exchequer of around €264m.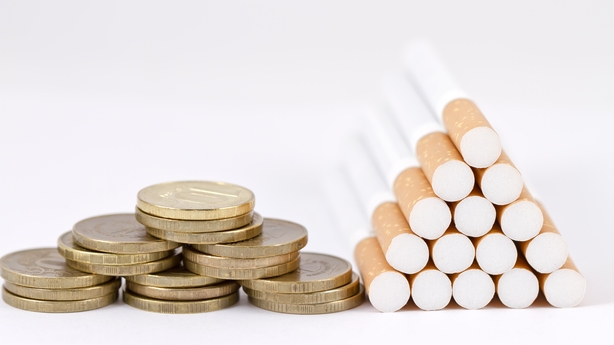 This represents around 13% of all cigarettes consumed in the country in 2021.
"This is viewed as a notional loss in Exchequer revenue as it assumes that the illegal cigarettes consumed displaced the equivalent full tax paid quantity of cigarettes, which is unlikely to be the case," today's papers state.