New Central Bank figures show that Ireland continues to have some of the highest mortgage rates in the euro zone, but the gap between rates here and the rest of Europe has narrowed over the past few months.
The average interest rate on a new mortgage stood at 2.68% in June, second only to Greece. But this is down from a rate of 2.73% in May and a rate of 2.77% in April.
The euro zone average mortgage rate stood at 1.90% in June, its highest level since at least August 2017.
For the second month in a row, Ireland was the only country in the euro zone to see a fall in its mortgage rates in June.
France now has the lowest average mortgage rate in the euro zone at 1.34%, followed by Portugal at 1.48%.
Today's Central Bank figures also show that the weighted average interest rate on new fixed rate mortgage agreements, which account for 88% of all new mortgages stood at 2.52% in June, down nine basis points on June 2021 and down three basis points on the previous month.
For new variable rate mortgage agreements, the weighted average interest rate increased by nine basis points to 3.75% in June.
---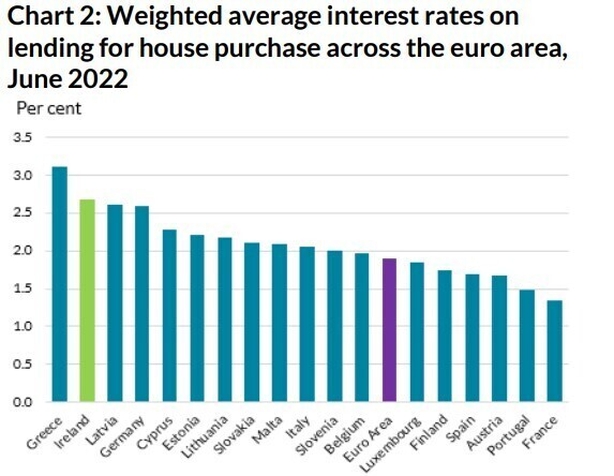 ---
The Central Bank said the total volume of new mortgage agreements amounted to €827m in June, an increase of 20% on the same time last year and a growth of 19% from May.
Commenting on today's figures Daragh Cassidy, Head of Communications at bonkers.ie, said there is something deeply ironic that as the ECB has started to hike rates and as rates in every other country in the euro zone have begun to rise, they are falling here.
"These figures are for June - so before the ECB announced its 0.5% rate hike. However all the major lenders have said they won't be passing on the hike to their fixed or variable-rate customers for now. So later in the year we could see Ireland having rates very close to the euro zone average, for a while at least, which would be a bizarre but very welcome turnaround," Mr Cassidy said.
He noted that rates in Germany at 2.59% are now almost as high as they are in Ireland, which no one would have predicted a few months ago.