British Airways has halted ticket sales on short-haul flights from Heathrow until August 8 following the London airport's decision to cap capacity and tackle widespread disruption and cancellations.
The IAG-owned airline said the sales suspension on domestic and European destinations was designed to allow existing customers to rebook flights when needed.
Airlines and airports across Britain and Europe have struggled to cope with the rebound in post-lockdown travel, with many failing to recruit enough staff to handle check-ins and baggage handling.
Heathrow, like Amsterdam's Schiphol airport, has told airlines to limit the number of tickets they sell over the summer.
This comes after it capped the number of passengers flying from the hub at 100,000 a day to limit queues, baggage delays and cancellations.
Heathrow said last week that the cap had delivered a marked improvement in punctuality and baggage handling.
"As a result of Heathrow's request to limit new bookings, we've decided to take responsible action and limit the available fares on some Heathrow services to help maximise rebooking options for existing customers, given the restrictions imposed on us and the ongoing challenges facing the entire aviation industry," BA said.
We need your consent to load this rte-player contentWe use rte-player to manage extra content that can set cookies on your device and collect data about your activity. Please review their details and accept them to load the content.Manage Preferences
This morning, Aer Lingus said it plans to operate all flights as scheduled to Heathrow Airport this week.
Meanwhile, Amsterdam's Schiphol Airport said today that passenger caps introduced for the summer season to cope with long waiting times and other logistical problems will be extended into September and October.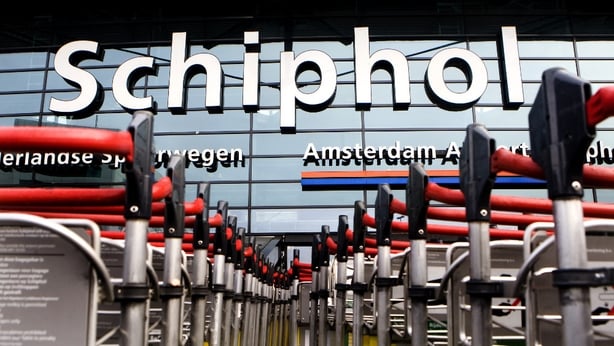 In a statement, Schiphol said it was also continuing other measures, such as asking passengers to show up no more than four hours before their flights.
The airport said it had warned airlines it expects too many passengers to handle during the Dutch autumn break in late October.
KLM, the Dutch arm of Air France-KLM, said the decision meant it would have to limit some ticket sales in the autumn.
"KLM does not expect cancellations to be necessary to meet the limit on the number of passengers boarding locally," the company said.
"However, fewer seats than usual will be available in the Dutch market," it added.
The carrier said in June that it would hold Schiphol responsible for financial damages resulting from the passenger caps.