The chief executive of AIB has admitted the bank "got it wrong" when it announced that it was to turn 70 of its 170 branches into cashless outlets, last week.
"We got it wrong," Colin Hunt told Business News on RTÉ's Morning Ireland. "The lesson for us from this is that we moved far too far, far too fast."
The bank reversed the move following strong public criticism and a call by Taoiseach Micheal Martin to reconsider.
Mr Hunt said the plan will not be revisited and existing branch services will continue as they are today. "We re not going to run ahead of our customers again."
He guaranteed that those branches would remain in place for as long as he is at the helm. "I can give you that guarantee."
We need your consent to load this rte-player contentWe use rte-player to manage extra content that can set cookies on your device and collect data about your activity. Please review their details and accept them to load the content.Manage Preferences
Mr Hunt was speaking as AIB reported profit after tax for the first six months of the year of €477 million, up 74% on the same period last year.
The bank clawed back provisions of €309 million which it had set aside for expected bad loans during the pandemic.
New lending increased by 20% to €5.4 billion including green lending €1.3 billion, representing 23% of total new lending.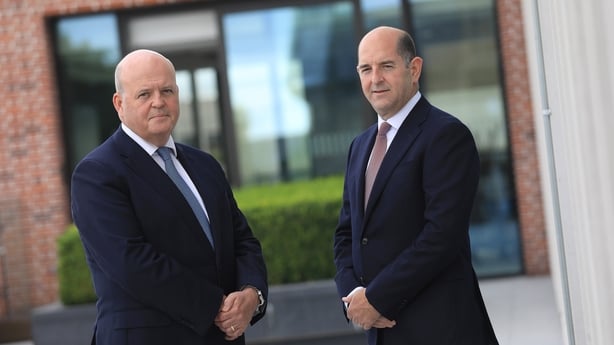 The bank said it had a 31% share of the mortgage market in the six month period.
AIB has got its non-performing loan total to below the key 5% of its book.
Total income at AIB was up 8% to €1.3 billion. Other income increased by 26% to €379m which includes €33m of income for Goodbody. Net fee and commission income increased by 35% to €286m predominantly as a result of higher transaction volumes from the recovery in economic activity.
Other income also included income from equity investments and €26m in respect of a forward contract to acquire corporate and commercial loans from Ulster Bank. The bank expects full year 2022 other income of €700m.
AIB acquired €5.7 billion of Ulster Bank assets and commenced migration of corporate and commercial loans, as well as Ulster's performing tracker mortgage portfolio which includes 47,000 which are expected to transfer in the second half of next year.
It has opened 205,000 bank accounts, an increase of 110%.AIB expects its customer base to exceed 3 million once all Ulster Bank customer loans have transferred to the bank and new customers join from the departing lender and KBC.
That would represent an increase of 10% on where its customer base stood four years ago. The bank has recruited up to 700 temporary staff to support the onboarding of those new customers.
The CEO said the bank was getting an estimated 47% of customers migrating from the departing banks.
"We have now completed two migrations successfully," Mr Hunt told an analyst call this morning.
"We're on track to complete the migrations in the first quarter of next year," he said.
Mr Hunt said legacy non-performing loans from the financial crash were 'largely resolved' but the bank is still dealing with some non-performing loans arising from the pandemic.
Mr Hunt hinted that the bank would pass on future interest rate increase from the ECB.
The bank chose not to pass last week's 0.5% increase on to its variable or fixed rate customers.
"We are expecting to see further rate increases over the course of the next number of quarters. It looks like we'll be having further rate increases in September. As we see those official rate increase coming through, we will be considering the appropriate pricing for our products right the way across the mortgage suite," he said.
The chief executive said against the backdrop of ongoing economic uncertainty, the bank has reported a solid set of financial results for the first six months of the year, demonstrating the Group's "ongoing stability and strength".
"We maintained leading positions in our core markets and continued to progress our cost-savings programme and growth strategy," Mr Hunt said. "Crucially, we continued to set the pace for the sustainability agenda in Irish financial services and during the first half we provided €1.3 billion of new green lending supporting our customers as together we tackle the challenges of climate change."
Net interest income of €895 million increased by 2% with lower cost of liabilities and higher income from investment securities. Deposits at negative rates increased from around €12 billion at December 21 to around €16 billion at end June.
The banks said the structure of its balance sheet is geared towards higher interest rates. In an update to previous guidance of high single-digit percentage increase in net interest income (which assumed official ECB and BOE rates of 0% and 2% respectively), it now expects NII to increase by around 10% in 2022 compared to 2021.
The updated guidance uses revised rate assumptions of an ECB Deposit rate of 1% and a BOE rate of 2.75% by December 2022.
Mr Hunt said, having significantly de-risked the balance sheet with legacy NPEs now reduced to only 0.6% of gross loans, AIB is in as robust financial shape as possible to support our 2.8 million customers and the wider economy as we collectively navigate the next period of uncertainty.
"Given the changing banking landscape and evolving operating environment, our medium-term targets are under review and we will update the market in due course. We see upside potential to our ROTE target, with the significant momentum we are seeing in income offset to some extent by cost inflation."
Call for AIB to provide financial support to staff
Responding to the profits announced by AIB, the Financial Services Union said the bank needs to provide additional financial support to its staff to help with cost-of-living increases.
"The starting salary for bank staff in AIB is €28,000," said John O'Connell, General Secretary of the FSU.
"If AIB can pay tens of millions to shareholders in dividends this year, they should certainly be able to support staff who have been at the frontline as major shifts in work practices, customer requirements and technological changes have occurred," Mr O'Connell said.
"Bank staff should not be wondering how they will heat their homes, pay their rent or put food on the table when their employer is heading towards a billion-euro yearly profit," he added.
In response, Mr Hunt said that of all the continuing banks in Ireland, AIB has the highest entrant salary and that it has been increased significantly.
"We have agreed a pay deal with staff, 10% over three years, giving absolute certainty to colleagues. It went to ballot in May and was approved by FSU members," Mr Hunt added.