From the birth of the aircraft leasing sector to the revolution of low-cost travel, Irish firms have been at the fore of the more significant changes in aviation for many decades now.
Now Irish and European airlines are bracing themselves for another period of change, as oil prices and environmental pressures look set to change our relationship with air travel once again.
A brief history of Irish aviation
We need your consent to load this rte-player contentWe use rte-player to manage extra content that can set cookies on your device and collect data about your activity. Please review their details and accept them to load the content.Manage Preferences
Many might think of Aer Lingus as the starting point in Irish aviation. But the industry actually started here in 1930, six years before Aer Lingus was created, when Hugh Cahill set up Iona National Airways.
He initially operated flights out of Baldonnel, before setting up a new aerodrome in Kildonan - just north of Finglas, Dublin.
Today, the remnants of the aerodrome can be found just north of the M50 at the Finglas/Ashbourne junction.
Iona's old engineering garage also still stands at Cross Guns Bridge in Dublin – right where Glasnevin and Phibsboro meet. It now trades as the Bernard Shaw pub but, bar a different paint job and new windows, looks much the same as it did 90 years ago.
In its heyday, Iona offered an air taxi service - flying people from town to town or even just around Dublin. It soon expanded to include some services to and from England.
The business survived in various forms right until the mid 1990s, before eventually being liquidated.
But once the State established Aer Lingus in 1936, Iona became second fiddle in Ireland's aviation scene.
Aer Lingus' first route was Dublin to Bristol – again from Baldonnel, as Dublin Airport didn't open for another four years. It quickly added services to the Isle of Man and London.
It started flying to continental Europe in the 1940s – and then started transatlantic routes in the late 1950s.
And while there were various attempts by commercial operators to rival Aer Lingus – including the likes of Iona – it really had the Irish market sewn up until the mid-1980s.
In the end it was moves to deregulate the market – initially in the UK and then across Europe - that opened the door for operators like Ryanair to properly compete.
How much did it cost to fly back then?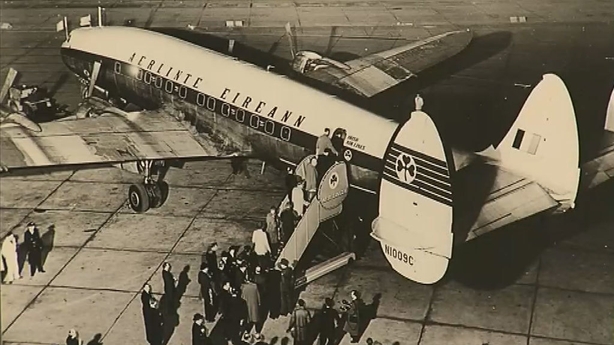 A lot.
At Iona Air, it was initially one shilling a mile for their air taxi service; and they'd charge five shillings for a 'joy ride' around Dublin.
That works out at a bit over half a day's pay for the average worker at the time.
For Aer Lingus, it depends on when in its history you're looking – and what route you were travelling on.
But, no matter when and where, it was expensive.
In the 1950s, a return ticket between Dublin and Frankfurt would have set you back the equivalent of €38.
That would be more than a month's wages for an average earner at the time.
In 1976 a flight from Dublin to London would have cost you £56 – or around €71.
That's more than an average week's wages at the time – and is equivalent to about €467 today.
But things had gotten particularly bad by the early 1980s, especially on the Dublin to London routes where Aer Lingus and British Airways had a duopoly.
At that stage a return ticket would have cost you around £210 – maybe more – which was equivalent to around two weeks' wages for the average worker.
That works at around €908 a ticket in today's money – so a phenomenal outlay.
It's no surprise that the ferry would have been the preferred option for many at the time – particularly families who were looking to travel across the Irish Sea.
So what changed to make flying affordable? Is it all down to Ryanair?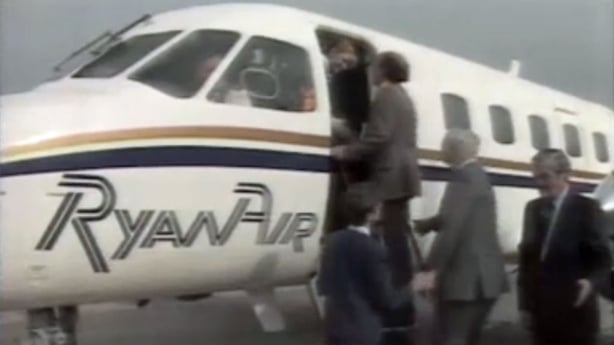 Yes and no.
Ryanair benefitted from deregulation in the market in the 1980s and was able to launch with a much cheaper offer to Aer Lingus and British Airways. Their first Dublin to London route was about half the price of what was available from the incumbents.
But that was still fairly expensive – it still equated to around one week of average earnings.
That's because, at first, Ryanair still positioned itself as what's called a 'full service' airline – the ticket price still included your bags, and other benefits like in-flight meals.
One thing Ryanair did do to keep costs down that's familiar to its modern approach was to fly to smaller airports rather than a city's main or more central locations. Its initial London service was to Luton, rather than Heathrow or Gatwick.
But within a few years the airline was in trouble – its costs were rising and it couldn't get enough passengers on board. It's at that point, in the early 1990s, that it turned towards the low-cost model that we're familiar with today.
The then chief financial officer Michael O'Leary took inspiration from Southwest Airlines, which had been operating a low-cost model in the US since the 1970s.
A big part of their model was focusing on flying short-haul services to smaller, cheaper airports, while also ensuring a quick turnaround of planes between flights. It also had an all-economy seat plan; so no business class option was available.
And a key part of the model to this day is to fill as many seats on each plane as possible. It may seems obvious but it's better to sell all your seats at €60 a piece, rather than only sell half of them at €100 a piece.
So we have Southwest Airlines to thank for our modern flying experience?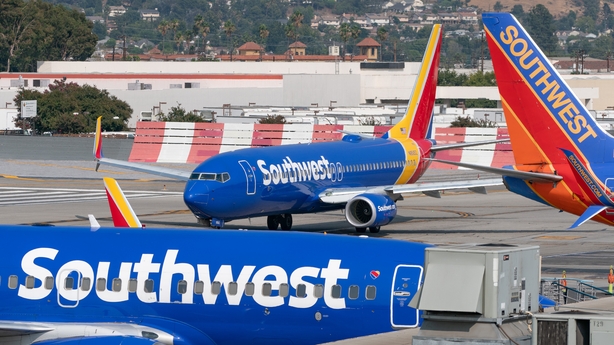 Not quite – because while Michael O'Leary was inspired by their model, he took it even further than Southwest.
To this day Southwest's ticket price includes two checked bags, you can pick your seat, there are no fees if you change or cancel your flight up to ten minutes before departure, there's free in-flight entertainment (including WiFi, where available) and non-alcoholic drinks are available free too.
They're all things that would sound luxurious to a Ryanair passenger – or really a passenger on most European, short-haul services of today.
Southwest is also often recognised as one of the best employers in the US – it has a big focus on creating a positive work environment, and a positive customer experience too.
That stands in contrast to the often hostile approach Ryanair has taken with unhappy customers, and with unions who are looking for better pay and conditions for staff.
But while O'Leary went much further in the low-cost model than Southwest did, it's clearly paid off.
Ryanair is now the biggest airline in Europe by passenger numbers – and countless other airlines have followed in its footsteps.
Not only has Ryanair led the vanguard of low-cost operators like EasyJet and Vueling, it's also forced the big guys like British Airways and Aer Lingus to switch to some form of a low-cost model too.
We've enjoyed more than two decades of low-cost flights – but where are prices going to go now?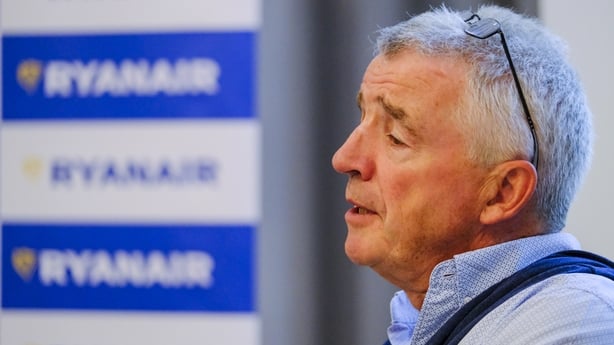 Up, unfortunately.
Major airlines and the International Air Transport Association are warning that the cost of flying is going up – and it's going to keep going up for the foreseeable future.
Michael O'Leary recently said Ryanair's summer 2022 fares are between 7-9% higher than they were pre-pandemic.
And in an interview with the Financial Times he said that fares would keep going up for the next five years, because, in his view, flying is just too cheap now.
Meanwhile Lynn Embeldon, the CEO of Aer Lingus, said it was inevitable that prices would rise in the near future – and she largely blamed the rising price of oil as the reason for that.
Around 25-30% of the cost base of an airline goes towards fuel – so if that gets more expensive, it's very hard for an airline to absorb it.
Rising fuel costs is also one of the reasons that Michael O'Leary is predicting higher prices – but another factor are environment-related taxes and levies.
On a per-passenger basis, aviation is a big source of pollution and governments and regulators around the world – and particularly in Europe – are looking to do something about that.
So there are more and more carbon taxes coming down the tracks for airlines – which will make it more expensive to fly.
There are ways to mitigate against emissions, like sustainable aviation fuel or more efficient planes, both of which Aer Lingus and Ryanair are investing in.
But the reality is that there's nothing that will completely remove emissions from aviation for the foreseeable future.
So is the era of cheap air travel over?
We are almost certainly at the end of the era of ultra-cheap flights – the days when you'd get a ticket for a couple of euro. However it's unlikely that the market will go back anywhere close to the bad old days when you'd have to save for months just to cover the cost of the flight.
In his recent Financial Times interview, Michael O'Leary said he sees their average fare going up by 25-50% over the medium term. That sounds like a lot, but that would still mean the average cost of a Ryanair ticket is €50-60. That's still not prohibitively expensive for the average consumer.
And it's in the interest of airlines like Ryanair to make sure they stay in the sweet-spot of affordability, because the low-cost model is all about bums on seats. It costs them money to leave a plane empty rather than sell it off cheap.
Why is that?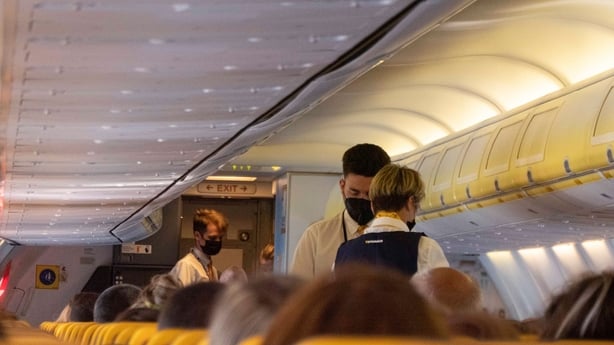 The cost of flying a half full plane is pretty much the same as flying a full plane – you still need the same number of staff, and you still need almost as much fuel too. So it's better to sell the seat for €20 rather than make nothing on an empty one.
And having more passengers on a flight gives airlines more opportunity to up-sell customers with baggage fees, seat selection fees, in-flight food and drink, or other products like insurance or car hire.
In its 2020 results – which was its last proper full year before Covid – Ryanair had almost €3 billion in so-called ancillary revenue. That's essentially everything beyond the cost of the actual plane ticket.
It represented more than a third of its total revenue that year, and every year it represents a bigger and bigger proportion of the money it makes.
How much of an airline ticket is down to tax?
Tax actually isn't a huge component of our plane ticket costs at the moment.
For example, there's no VAT charged on a plane ticket – and that's the norm across Europe.
We also don't have any kind of passenger tax at the moment – we did for a relatively brief period of time, but it was scrapped in 2014.
Some of the cost of a ticket does go towards the airport charges – and they differ from airport to airport, and from route to route in some cases.
In Dublin Airport, at the moment, the passenger fee is currently capped at €8.50.
The airport's operator, daa, recently requested an increase in the rate from next year on – but it's up to the Commission for Aviation Regulation to decide if that happens.
What about environmental charges – is the fuel used in aviation heavily taxed?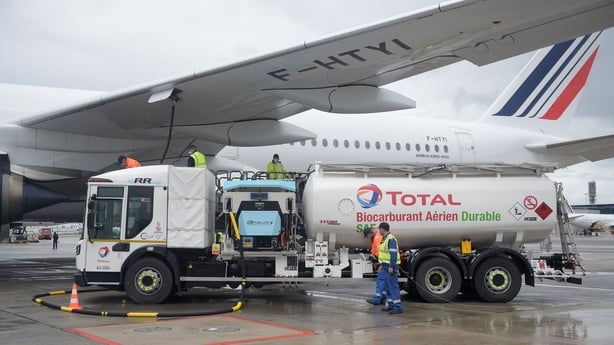 Not really.
Not only is VAT not levied on aviation, kerosene is also exempt from excise duties.
However there are tax-like costs added to the fuel bill in different ways, because airlines are part of the European Union's Emissions Trading System.
That essentially puts a cap on the amount of carbon they can emit in a year – and they have to buy carbon credits to offset anything above that.
So depending on the airline and how much it pollutes, some of what they're charging you will be going towards those environmental costs.
The allowances and caps in that system fall every year, too, so airlines either need to keep reducing their emissions, or pay more to make up for what they pollute.
And there are plans in the EU at the moment to start to whittle away those allowances completely, which would mean airlines would have to pay for more of their pollution.
There's also a proposal to start bringing in taxes on kerosene too – all of which is likely to push up the cost of flying.
Aircraft leasing is another way airlines have cut costs - what role does Ireland play here?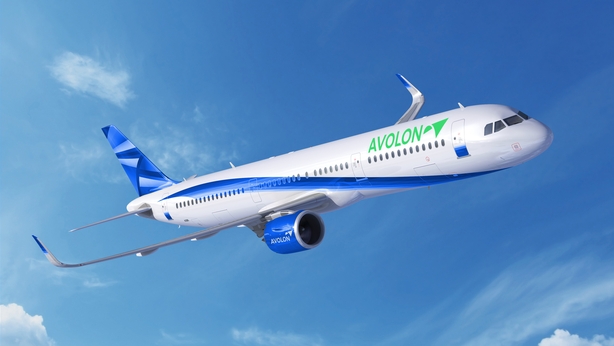 It's a huge player in what is a massive, global business.
As the name suggests, this is a business where a company buys aircraft and then leases them out to airlines on a short or long-term basis.
That can give airlines flexibility to expand capacity relatively quickly, and it may work out cheaper to lease a plane for a few years than buy one outright.
It's another way in which Tony Ryan has had a massive influence on aviation here – because, before Ryanair, he was one of the people that set up Guinness Peat Aviation in 1975, which formed the foundation for the aircraft leasing sector.
Our low corporation tax rate, as well as lots of double tax agreements has made us a good location for the industry – and it's grown dramatically since the mid-70s.
Today, Ireland has a near two-third share of the global leasing market, and about 60% of all planes in the world are managed by one of the 50 or so firms that are based here.
And it's said to be worth about €500m to the Irish economy.
So why don't we hear much about it?
Because, by and large, it's an accounting measure.
All of those planes might be managed by an Irish leasing firm, but they're not actually here. In fact they may never have actually been anywhere near Ireland; they're just on the books of an Irish-based company and counted as an Irish asset for tax purposes.
And despite its size – leasing isn't a massive employer here either.
Some statistics from the Central Statistics Office found that there were fewer than 2,000 people directly employed in aircraft leasing in Ireland in 2018.
For comparison, Apple alone employs around 6,000 people in Ireland. Google employs around 8,000. Tesco employs 13,000.
But if you are employed in aircraft leasing, you're probably doing pretty well for yourself.
That same CSO survey said that the average income in aircraft leasing was around €208,000 a year in 2018, and average earnings have risen significantly every year for the past decade.