A new battery storage plant, designed to help ease out the supply demand imbalances caused by renewable energy, has gone online in Cork.
The 19MW facility at Aghada provides stored electricity into the grid when required to create stability amid fluctuations in supply.
The plant was built for the ESB by Fluence, Powercomm Group and Kirby Group.
"This is ESB's first battery project in Ireland – this and four other battery projects now in development by ESB will deliver 300MW of battery capacity within the next two years," said Paddy Hayes, ESB Chief Executive.
"These projects will support the delivery of a stable and cleaner electricity grid, which is set to be powered by 80 per cent renewable generation by 2030."
As well as the Cork plant, additional battery storage facilities are being constructed under the partnership at Inchicore, South Wall and Poolbeg in Dublin.
"It demonstrates how energy storage systems can successfully displace fossil fuel plants and offer Ireland low-carbon flexible capacity to balance the electricity network," said Paul McCusker, Fluence President of EMEA.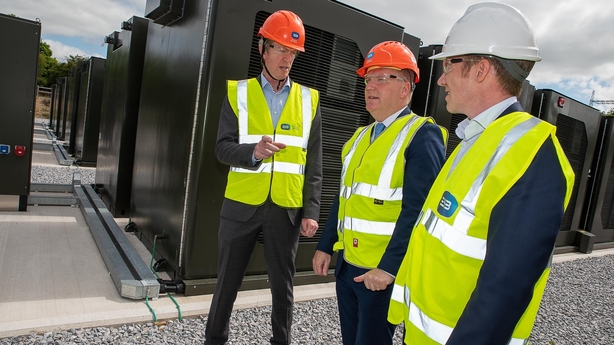 "The project is built with the use of our Gridstack energy storage product that can respond within 150 milliseconds and provide up to two hours of discharge at full power."
"It is a part of a previously announced 300 MWh energy storage portfolio–the largest in the European Union–that Fluence is proud to be developing with ESB in Ireland."
Minister for Public Expenditure and Reform Michael McGrath, who was at Aghada today, said the technology will play an important role in facilitating more renewable sources of energy onto the electricity system.
"I am delighted to be here today with ESB and their partner Fluence who, with the help of several Irish companies, have launched the first in a series of battery storage projects," Minister McGrath said.
"ESB has a strong history in Co Cork and, with projects such as this, the region will play an important part in delivering its Net Zero strategy into the future."
Similar facilities are being built all over the country by a range of private sector operators.
RWE's 60WM plant recent went live in Monaghan and Iberdrola has turned on a 50MW battery storage system in Meath.
While Microsoft has said it is planning to build one in Dublin at its data centre there.