New research from the Irish Tourism Industry Confederation (ITIC) shows that arrivals into the country dropped by 13% in June compared to the same month in 2019.
In total, 930,000 people visited the country last month.
The figures show the Continental European market was the strongest performer, down just 9% on 2019, while arrivals from North American were down 13% to 260,000 arrivals.
Arrivals from great Britain dropped 11%, while arrivals from the rest of the world were down 33%.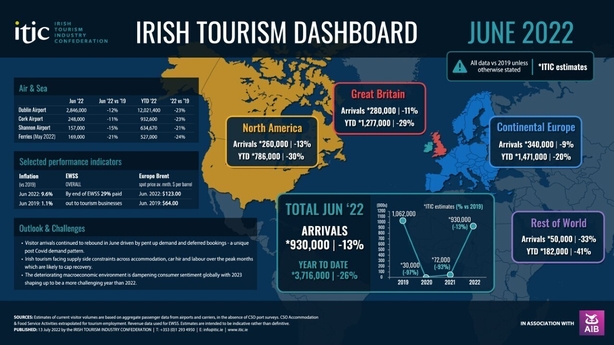 "Comparing tourism monthly data to 2019 we feel is the best comparison and will help track recovery," said Elaina Fitzgerald Kane, Chairperson of ITIC.
"Pre-pandemic tourism was the country's largest indigenous industry, its biggest regional employer, and contributed €2 billion annually to the exchequer and it is vital that the sector returns to sustainable growth," she added.
Eoghan O'Mara Walsh, CEO of ITIC, said supply shortages in accommodation, car hire and labour are likely to restrict growth over the coming months.
ITIC highlight that emerging evidence points to a softer 2023 "with cost inflation at an unprecedented level".
Mr O'Mara Walsh urged the Government to address these issues in Budget 2023.
"Irish tourism is the country's largest indigenous industry and biggest regional employer and it is vital that the sector continues to rebuild," he said.
"Government must maintain tourism investment and keep the Vat rate at 9% until full recovery is secured," he added.