Ulster Bank and the Financial Services Union have agreed to an additional cost of living pay increase of 4% for bank staff earning up to €45,300.
Ulster Bank and the FSU had previously agreed a pay increase averaging 4% for staff in April.
The additional increase will be paid in the September payroll to over 1,000 Ulster Bank staff.
The union said the increase will have no effect on pay negotiations for next year.
Gareth Murphy, Head of Industrial Relations and Campaigns with the FSU, said the union has been in talks with the bank for the last couple of weeks and are pleased that it has responded well and has agreed to a plan to help address the rising cost of living for those on lower pay in the bank.
"In practical terms this will mean well over 1,000 workers who are on the first two pay levels in Ulster Bank will receive an 8% increase in pay in 2022," Mr Murphy said.
"For those above the threshold the reference point moves in ranges for Grades A, B and C which will have the effect of improving their position ahead of pay next year," he added.
John O'Connell, General Secretary of the FSU, said that the Central Bank warned today that inflation could reach and exceed 10% later this year with families struggling to put food on the table and heat their homes.
"We need employers to respond positively in pay negotiations with Unions for an additional pay increase for staff to ensure they are best protected from rises in inflation," Mr O'Connell said.
"This is a very welcome targeted response from Ulster Bank to the rising cost of living and is an action that should set the tone for other employers in the sector," he added.
Ulster Bank's UK parent NatWest is also handing out an unscheduled pay boost to staff to help shield them from soaring price rises, according to an internal memo seen by Reuters.
NatWest has given 22,000 staff in lower paid jobs globally a £1,000 raise on average.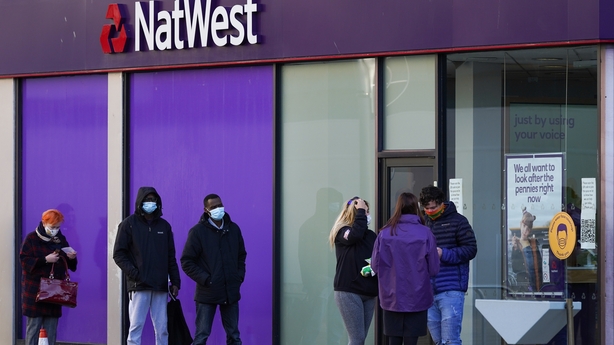 In Britain the pay rise is being applied to staff earning a full-time equivalent salary of £32,000 or less and equates to a 4% pay increase, taking effect from September.
A NatWest spokesperson confirmed the contents of the memo.
"We are taking targeted action and awarding a permanent increase to base pay for our lowest paid colleagues across the globe," NatWest CEO Alison Rose said.
Employee union Unite said it welcomed the pay rise, adding it was preferable to a one-off payment.
"While the bank's offer does not meet in full all that Unite requested, this is an important first step," Unite national officer Caren Evans said.
NatWest's offer differs from those made by rivals Barclays and Lloyds, with the salary increase taking place on top of its existing annual pay review and applying globally, according to the memo, with the bank operating centres in Poland and India.
Barclays said last month it would give 35,000 of its staff a £1,200 annual pay rise, applying to lower paid roles in Britain and bringing forward part of its existing annual pay review. It added it would consider pay rises in other countries.
Lloyds meanwhile gave the vast majority of its employees a one-off £1,000 payment without improving annual pay.