Cost-of-living concerns and rising interest rates will slow the demand for houses in the second half of the year, according to the latest house price report from MyHome.ie.
It reveals that a "minor" fall in house prices could be on the way as a result, but states that a 'Celtic Tiger' crash in unlikely.
Asking prices for houses are now up 10.9% on the same time last year, with the median asking price in the second quarter standing at €320,000.
This is a slowdown in the growth rate, with the last report showing annual asking price inflation running at 12.3% for the year to March.
The median asking price in Dublin increased to €403,000.
National asking prices rose 5.3% on the previous quarter - however the data suggests that price inflation will slow in the final six months of the year.

Conall MacCoille, author of the report and Chief Economist at Davy, said anecdotal evidence from estate agents suggests that the momentum driving asking price inflation earlier in the year, is starting to slow.
However, he said there is unlikely to be a repeat of the Celtic tiger era.
"Mortgage lending rules have kept the market in check," he said.
MyHome.ie Managing Director Joanne Geary said inflationary pressures are likely to temper demand as the year goes on, leading to a "year of two halves".
"We anticipate that the first half of the year will see stronger asking price inflation growth than the second half of the year with our forecast of asking price increases still standing at 7% for the year," she said.
We need your consent to load this rte-player contentWe use rte-player to manage extra content that can set cookies on your device and collect data about your activity. Please review their details and accept them to load the content.Manage Preferences
Rising supply levels
The report reveals that there were 12,700 properties listed for sale on MyHome.ie in June, up from 11,200 in March and flat over the past 12 months.
"It is encouraging to see stock levels and new listings rise this quarter, albeit from a low base," Ms Geary said.
However, she pointed out that demand is still far outstripping supply.
"This imbalance needs to be rectified in order for normality to return to the market," she added.
Mr MacCoille added that this is the first time there has not been a year-on-year decline in the number of properties listed for sale since 2019.
"In Dublin, the number of homes for sale in June was 3,900, up 7% on the year, now at its highest level since mid-2020.
"That said, the housing market is still very tight, with listings still well down from the 21,000 on average through 2017-2019," he added.
He pointed out that the small improvement has not been driven by a lack of demand, rather vendors returning to the market.
The report reveals that the average time it takes for a property to go sale agreed fell to a fresh record low of just 2.6 months in the second quarter of the year.
Mr MacCoille said this is indicative of the large gap between supply and demand evident across Ireland.
"The average time to sale agreed outside Dublin has also fallen to a record low of 2.9 months - taking just two weeks longer to sell a property outside the capital," he added.
The report also reveals that 20% of those with mortgage approval, or 8,500 potential home buyers, are failing to secure a property each year - further highlighting the difficulties people are facing when it comes to purchasing a home.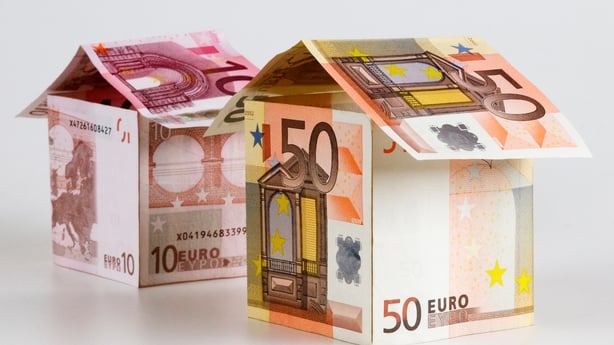 Regional breakdown
The figures show that the median price of all properties listed for sale on the MyHome website was €278,000 in the second quarter of the year, up 4.9% on the year.
Median prices in Louth have seen the strongest gain over the past 12 months, up 15.4% to €225,000 in the second quarter, closely followed by a 14% rise in Wexford to €245,000.
Offaly has also seen a 9.4% gain to €210,000 and there was an 8.1% rise in Westmeath to €200,000.
Meanwhile, the border counties have seen very sharp price inflation.
In Cavan, price inflation in the second quarter was 13.4% to €190,000, while in Donegal, prices are up an enormous 19.4% to €185,000 and they rose by 12.1% in Monaghan, also to €185,000.
Today's report also shows that upward pressure on rents has continued, with the CPI private rents index highlighting an 11.2% rise in rents in the year to May.
This follows a 9% rise through last year, according to the Residential Tenancies Board, when rents rose to a fresh record high of €1,415 on average and by 8.9% to €1,972 in Dublin.