The economy will continue to grow strongly this year based on the performance of multinational companies in Ireland, according to the Economic and Social Research Institute.
However, its latest Quarterly Economic Bulletin warns that growth in the domestic economy will slow due to the impact of inflation.
The ESRI expects the economy to grow in GDP terms this year by close to 7%.
However, it expects the domestic economy to grow by just over 4% (4.4% Modified Domestic Demand) which is half a percentage point less than the institute's last forecast in March.
Inflation eating into incomes and uncertainty over the war in Ukraine affecting investment are the main reasons given for this moderation in growth.
Imminent increases in interest rates are also expected to reduce property prices by 2% and to lead to a slowing in the rate of house price inflation.
In a briefing, the ESRI's Kieran McQuinn said there was "some element of overvaluation" in the property market with the pandemic providing a surprise boost to prices due to higher levels of savings and fewer new homes built.
When it comes to the public finances, the ESRI says there is room for additional, targeted measures, to help lower income and rural households who have been worse hit by inflation.
It expects the Exchequer to record a surplus this year of €1.6 billion.
The ESRI also forecasts that inflation will impact the level of investment in housing.
It expects 26,000 housing units to be completed this year and 27,000 next year.
It had previously forecast completions of 30,000 next year.
We need your consent to load this rte-player contentWe use rte-player to manage extra content that can set cookies on your device and collect data about your activity. Please review their details and accept them to load the content.Manage Preferences
It also warns that industry sentiment surveys across Europe show that the outbreak of war in Ukraine coincided with a 'significant decline' in business sentiment which it expects to feed into the expenditure decisions of firms over the following months.
On inflation, the ESRI notes that food and energy inflation here was 23.8% on an annual basis in May.
Meanwhile, core inflation comprising non-food and non-energy items was running at 5.1%, which was "of real concern."
The quarterly notes that as core inflation rises "...the likelihood of increased inflationary expectations amongst the public could result in greater demand for higher wages which in turn can reinforce any inflationary pressures."
Kieran McQuinn, Research Professor at the ESRI, has called for the Government to use targeted measures to help the most vulnerable to inflation.
Professor McQuinn said that energy supply will be the big issue over the next 18 months to two years and there are significant uncertainties.
He said the economy is a rather complex story at present as this year as we experienced strong growth, due to the easing of public health measures while the exports sector continued to perform strongly.
"As we move through the year, significant headwinds are likely to impact the economy and inflation and these will be persistent and significant compared to what we expected, related to that is the ongoing situation in Ukraine and the economic uncertainty that that generates. Energy supply over the next 18 months to two years will be significant," he stated.
He said that the economy is performing quite well but it remains a difficult position for the Government as we also have significant inflation in the economy.
He said that the ESRI estimates inflation at 7.2%.
"Government has to be particularly careful about any actions it takes that could further stimulate inflation. These centre around public sector pay and cutting taxes to stimulate the economy and this could potentially contribute to inflationary pressures," the Professor said.
He said that there is a strong case for a targeted approach for lower income households as they are impacted more significantly by higher rates of inflation than others, suggesting that the Government have power in this regard and should apply that power.
He said that colleagues in the sector have highlighted certain measures, such as fuel allowance, payments to Christmas bonus, which he said were the "way forward".
John King, Deputy General Secretary of SIPTU, said if workers' wages are not maintained it will have a negative effect on domestic demand and growth in the economy.
He said that he did not accept the analysis by the ESRI today, and he did not accept the premise in terms of a link between a rise in pay and rise in inflation.
In relation to pay talks for the public service, he said, he believed the Government does want an agreement that will be acceptable to all sides.
He said that Government need to give officials in public expenditure some space to enable the tables to resume.
Taoiseach says Ireland has to avoid stagflation
Taoiseach Micheál Martin has said Ireland will have to avoid stagflation in the coming year through targeted and temporary measures on fiscal, health and public transport policy.
Asked if stagflation was already a feature of the Irish economy, the Taoiseach said: "Not yet. But I think that's what we have to try and avoid in respect of the challenges ahead".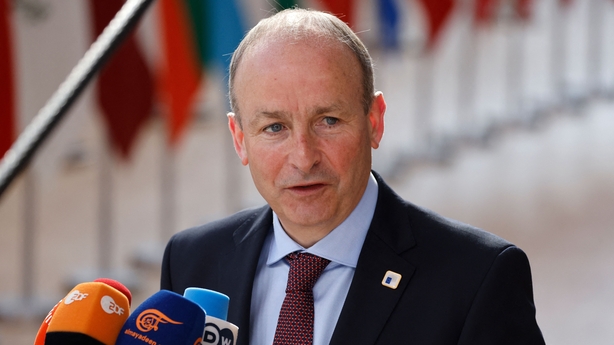 "I've been very clear to people, we cannot chase inflation from month to month. It's a very challenging and serious situation that's happening globally and within Europe. And that impacts on Ireland," he added.
Mr Martin was speaking as he arrived for a meeting of EU and Western Balkan leaders in Brussels, ahead of an EU summit.
"The forecast is that we'll have economic growth to the end of the year. And so we have to protect that side of the economy, which is creating jobs and creating investment, inward investment in particular," the Taoiseach said.
"We know from the 1970s what happens if you try and chase inflation. You get second and third rounds of inflation, which last for a much longer period. So there has to be a combination of monetary policy, fiscal policy, then through targeted and temporary measures," he stated.
"In some instances, we then will try and keep pressure off people and alleviate the pressures on people. The best opportunity to do that will be the budget," Mr Martin added.