British online fashion retailers ASOS and Boohoo both cautioned today that they are being hurt by rising product returns as consumers battle inflation and return to pre-pandemic behaviour.
Shares in ASOS slumped 24% today after it said it would miss profit forecasts after seeing a significant jump in returns in the UK and Europe since April as inflation impacted its 20-something customers.
Boohoo shares were down 14% after it reported a dip in first-quarter sales that partly reflected higher returns.
"We know that the sharp increase in return rates during the period happened at the same time that consumers started to feel the pinch," ASOS's newly appointed chief executive, Jose Antonio Ramos Calamonte, told analysts.
"For example, in the UK we saw a sharp increase in return rates coinciding with increases in national insurance contributions and increased energy, food and fuel prices," he said.
But Boohoo CEO John Lyttle said higher return rates, running 4-6% above pre-pandemic levels, were more about its customers returning to behaviour before the coronavirus pandemic.
"Through the pandemic we were all wearing athleisure, looser fitting, less fit sensitive, and now we're clearly back to dresses and particularly occasion dresses tend to be a little bit more fitted," he told Reuters.
"So you have a higher return rate coming with that change from athleisure into dresses."
ASOS COO Mat Dunn said free returns was a "no regret" decision taken to optimise its customer proposition. "We still believe that free returns are a core part of our offer."
Returns is the latest issue to hit the online fashion retail model, which has already been hammered by supply bottlenecks, slower product deliveries and higher freight and labour costs.
Last week Swedish online clothing pure-play Boozt warned on profit.
In contrast, H&M, the world's second biggest fashion retailer, yesterday posted a forecast-beating 17% jump in March-May sales, joining main rival Inditex in reporting a rebound in demand as pandemic restrictions eased.
ASOS said today it expected revenue to grow by 4% to 7% in the year to end-August, with adjusted pretax profit coming in between £20m and £60m.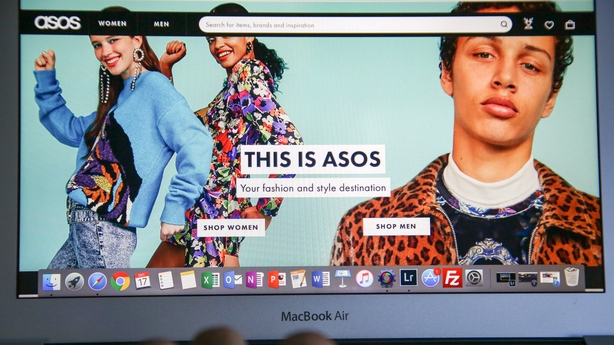 Analysts had anticipated profit of €83m, according to a consensus compiled by Refinitiv.
ASOS shares are down 82% over the last year, while Boohoo's are down 83%.
Boohoo's revenue fell 8% to £445.7m over the three months to May 31.
UK sales fell 1%, but returned to growth in May.
However, the group said its international performance continued to be impacted by increased delivery times, with sales down 28% in the US, down 9% in the rest of Europe division and down 15% in the rest of world division.
Boohoo warned last month that sales would fall in its first quarter. It forecast a return to growth in the second quarter and improved performance in the second half.
It maintained its guidance for the full year today.