New figures from the Central Statistics Office shows that Ireland's international trade surged again in April.
The CSO said that €17.7 billion in goods were exported in the month, an increase of 44% on the same month last year.
Meanwhile, imports were up by more than a third to €11.2 billion, the CSO figures show.
Within that, imports from Britain rebounded by 78% to almost €2.1 billion on an annual basis driven mainly by increases in the imports of mineral fuels and chemicals and related products.
The CSO noted that the large growth rate in imports from Great Britain is partly explained by the relatively low level of imports in April 2021.
April last year was the fourth month in which customs documentation was required for trade with Great Britain, which impacted on Irish trade with Great Britain, it added.
Meanwhile, exports to Britain were also higher, rising by more than half to almost €1.6 billion.
Today's figures show that the EU accounted for 39% of total goods exports in April 2022 of which €2.875 billion went to Germany and €1.338 billion went to Belgium.
Total EU exports in April 2022 increased by 40% compared with April 2021.
---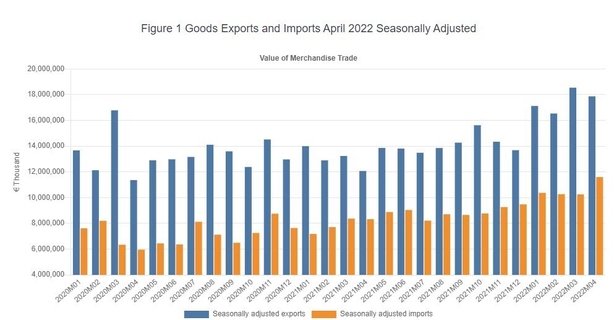 ---
The US was the main non-EU destination accounting for 31% of total exports in April.
Today's CSO figures show that the EU accounted for 32% of total goods imports in April, an increase of 29% on the same time last year.
The UK with 21%, the US with 15% and China with 8% were the main non-EU sources of imports.