The cost of everyday items is continuing to rise.
Recent data from Eurostat suggests consumer prices rose here by 8.2% in the year to the end of May.
That translates into higher costs at the shopping tills - Kantar recently estimated that the average household's grocery bill will be €330 higher this year.
But not all price rises are equal, with a myriad of factors affecting different products in different ways.
To help make sense of what's going on, we've taken a closer look at a selection of everyday grocery items. Each one has seen significant price increases, but each one has a different story to tell as to the reasons why.
In this article, we'll look at clothing.
What's happening with the cost of clothing?
We need your consent to load this rte-player contentWe use rte-player to manage extra content that can set cookies on your device and collect data about your activity. Please review their details and accept them to load the content.Manage Preferences
Clothing might not be a grocery essential, but it would be a regular purchase for many. With many big supermarkets now having clothing sections of their own, it's also the kind of product that could easily find itself in your shopping basket.
According to the Central Statistics Office consumer price data for April, the price of clothing was 1.1% higher in the year, which isn't too dramatic given what we're seeing elsewhere.
But the data also showed that clothing prices had risen by 4.2% in the month of April alone, when compared to March, which is a sizable jump in a matter of weeks.
Footwear prices, meanwhile, are up more than 6% in the past year.
And what that points to is the start of increases that have been flagged by retailers, that are beginning to feed through to the tills.
Pretty much all the major clothing retailers have announced plans to raise prices – including Inditex, which owns brands like Zara; Primark, which owns Penneys here; H&M, Next and others.
Some of those increases have already happened – and that's part of what we're seeing in the CSO data – but some are yet to come. Penneys, for example, said its price increases would come on its Autumn/Winter stock, so only really taking effect from August.
Meanwhile Next said it expected to raise prices in the second half of the year – but when it does so it will be by an average of 6.5%.
So clothes are probably going to get a good bit more expensive in the months ahead.
What's causing it?
Well much of the clothing industry is very heavily reliant on the global supply chain.
A lot of big brands, both on the mass-market side and the high-end, luxury side, would have their goods produced in places like China, India or Vietnam, and then shipped across the globe to be sold in a shop in the likes of Ireland.
So when the pandemic hit, the factories making the goods shut down – as did the ports shipping the goods around the world.
And we've been dealing with the backlog that all of that created ever since, with the cost of shipping goods now many multiples higher than what it was before.
But even if the clothes you buy are Irish-made, they're facing a similar problem. That's because they're likely having to import the materials they use.
Most cotton comes from the US or Brazil, wool might come from Australia or South Africa, China is the biggest exporter of denim, linen and polyester.
Bar some small companies here that are using Irish wool, or maybe high quality linen or leather from Europe (which are more expensive to begin with) the chances are that even local manufacturers are going to face the same kind of shipping issues as those making the goods in Asia.
But that's only part of the story when it comes to clothing.
What does sustainability do to price?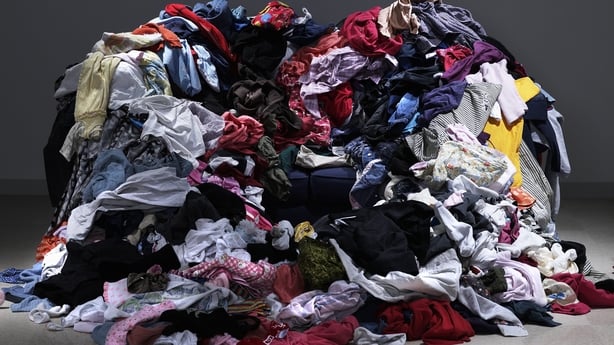 One of the big underlying trends in clothing in recent years has been sustainability – or the lack of it.
And that's something that many clothing companies are finally taking steps to address – or at least they're saying they are. While that is undeniably a good thing, unfortunately it comes at a cost.
Exactly how much it costs all depends, but it's always going to cost more than the unsustainable, fast-fashion structure that's been in place in many companies for some time now.
That's because sustainability means a clothing firm is no longer focused on finding the cheapest supply of whatever material they use. Instead they have to focus on whether the people growing, producing and manufacturing the materials are being treated well and being paid properly.
They're also focused on making sure the product itself isn't harming the environment – that might mean avoiding plastic-based materials like polyester or nylon in favour of natural materials like cotton; or going for better quality dyes.
Maybe they want to ensure renewable energy is used in the production and transport of your goods – or at the very least that the carbon emissions are offset in some way.
And maybe they decide set up a so-called closed loop system, where people can bring in items that they're finished with, and have them recycled into new products.
And each of those things that they do adds a little bit of cost to each item they make.
But beyond that, sustainability is also about extending the lifespan of the clothing we buy, too.
Some of that is on us as consumers – but it's also on the retailers to ensure that what they're selling isn't going to fall apart after a few wears.
That means making things to a higher standard – which costs more, per item, than churning products out of a far away factory.
However sustainability should also lead people to buy less than they did before, because they don't need to keep replacing items at the same rate.
So the average we spend on each item might go up – but the hope is that the total amount we spend on clothes stays the same, or maybe even falls a little.