Both AIB and Bank of Ireland have reported a more than 120% increase in new account openings in recent weeks as customers of both Ulster Bank and KBC Bank Ireland look for a new bank ahead of their departure from the Irish market.
Meanwhile, Permanent TSB also said that its new current and deposit account openings have increased over 176% compared to this time last year.
Bank of Ireland said it has opened more than double the number of current accounts this year than during the same time last year.
For the week ending May 22, it said the number of personal current accounts opened so far in 2022 is running at almost 120% growth on the same time last year.
It noted that 70% of accounts are being opened online, with the remainder being opened in branch.
It said that digital account opening - from application to receipt of an account number and a card ordered - takes less than three days while account opening in branches is taking less than five days.
To support the increasing number of applications, Bank of Ireland has increased the number of dedicated resources available for account opening by 50 to 550.
The bank said today that 400 of the total additional resources are already in place, with activity underway to fill the remaining roles.
Bank of Ireland noted that where customers experience delays in opening a new account, the most common issue is the documentation required for Anti Money Laundering (AML) compliance.
To open a Personal Current Account online or a branch, customers will need at least one form of photo ID and one proof of address document.
Henry Dummer, Director of Everyday Banking at Bank of Ireland, said the lender was seeing "unprecedented" account openings, with the volume higher than any record previously seen.
"At the end of April, we reported an 80% increase on the same period last year and this figure is now almost 120%," Mr Dummer said.
"We have put a range of supports in place for consumers, and will continue to do all we can to make the process as smooth as possible. We are recruiting, training and onboarding personnel on a continuous basis to handle increasing volume," he said.
"We are opening more accounts than ever in our history, but we do anticipate increasing pressure over the rest of 2022 and into 2023 so we are encouraging customers not to leave this until the last minute," he added.
Meanwhile, AIB also said it has seen the largest number of account openings in a single week for the week to May 29 with about 11,000 customers opening a new account with the bank.
This is up 122% compared to the same week last year and brings to 61% the increase in account openings so far this year.
AIB said it has experienced a consistent upward trend in account opening over the last ten weeks as Ulster Bank and KBC have stepped up their preparations to withdraw from the market here.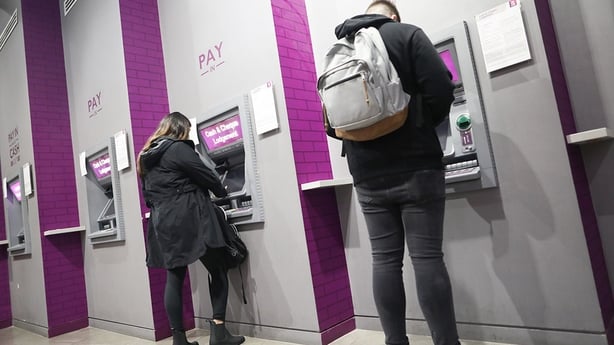 With about 470,000 current accounts set to move from these banks to other financial providers over the coming months, the changes due to take place across the banking landscape in Ireland are unprecedented, AIB said.
So far this year, customers have opened about 160,000 accounts with AIB compared with about 99,000 for the whole of last year.
AIB has recruited and trained up to 700 temporary staff to assist migrating bank customers while it has also redeployed 300 of its existing staff to focus on new customers.
The bank also said it was investing in its digital capabilities to ensure more customers are eligible to open new accounts online.
AIB last week launched a marketing campaign across radio, digital, press and social media channels to raise customer awareness of how to switch to the bank.
AIB offers two main account opening options. Customers can open their account remotely via the bank's Mobile App which takes around 20 minutes to complete.
Alternatively, they can open an account in person at any one of its 170 AIB branches nationwide.
The lender said it has branches in 95% of the locations that Ulster Bank and KBC are leaving.
AIB's Managing Director of Retail Banking, Jim O'Keeffe, said that the changes in the banking market represent a huge opportunity for AIB to welcome hundreds of thousands of new customers.
"We are already seeing significant momentum, with our current weekly account opening trends more than double 2021 levels and 70% of personal customers now able to open a new bank account using our digital channels, which also helps free up capacity for those who wish to engage face-to-face with our branch colleagues," he added.
Meanwhile, Permanent TSB has also reported strong demand from customers seeking to move current and deposit accounts from Ulster Bank and KBC.
The bank said its staff have also begun attending in about half of Ulster Bank's branches around the country to support Ulster Bank customers who are looking to move their bank account.
Patrick Farrell, Retail Banking Director at Permanent TSB, said that the bank had seen a sharp increase in demand from customers switching out of Ulster Bank or KBC.
"Over the past few weeks the level of activity has increased significantly and the bank has seen a substantial increase in the number of new current and deposit account openings, increasing more than 176% compared to this time last year," Mr Farrell said.
"We are noticing strong demand for our online services (through which customers can open a current account online) and for appointments in branches for customers who want specific supports to make the move," he added.