The cost of almost all grocery items is going up, with a new estimate from Eurostat suggesting consumer prices rose here by 8.2% in the year to the end of May.
That translates into higher costs at the shopping tills, with Kantar recently estimating that the average household's grocery bill will be €330 higher this year.
But not all price rises are equal - a myriad of factors affect different products in different ways.
To help make sense of what's going on, we've taken a closer look at a handful of everyday grocery items to see what's causing the change in price.
Each one has seen significant price increases recently, but each one has a different story to tell as to the reasons why.
In this piece, we'll look at baked goods - specifically biscuits.
What's the deal with biscuits?
We need your consent to load this rte-player contentWe use rte-player to manage extra content that can set cookies on your device and collect data about your activity. Please review their details and accept them to load the content.Manage Preferences
Adam Maguire discusses booming biscuit prices on RTÉ Radio 1's Today with Claire Byrne
Most people would think of biscuits as a fairly basic product. If you wanted to make some chocolate chip biscuits yourself, for example, you're maybe looking at just 7 or 8 ingredients to do that.
But they're actually a really good representation of the incredibly complex, global supply chain that exists today that many of us take for granted.
The flour, for example, is probably coming from the UK. But a lot of that, in turn, is probably being imported from Ukraine or Canada.
The sugar you need is probably coming from Brazil or India – but it might be getting refined in Romania, or Portugal.
Your eggs and butter might be coming from Ireland – but many big producers could be sourcing them from the Netherlands or Poland, or Turkey or New Zealand.
The chocolate might be coming from Belgium or Germany – but the cocoa beans to make the chocolate are coming from the Ivory Coast or Ghana.
The vanilla in the vanilla extract likely comes from Madagascar or Indonesia, the salt might be from China, the US or India. The bicarbonate of soda is maybe from China or the US too.
So all of these ingredients are sourced from all corners of the globe, through other companies based in the UK or the EU.
And what's amazing is that they're usually readily available on your average supermarket shelf, at a cost that would allow you to make a batch of biscuits fairly cheaply.
So what's gone wrong?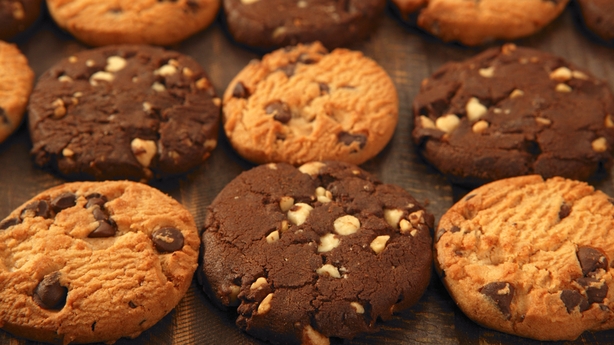 But this incredibly complex supply chain has taken a couple of knocks in recent years – particularly in Ireland. The first big one was Brexit.
Let's say you don't want to make the biscuits, you just want to buy a packet of them instead.
But when you think of the big biscuit brands on our supermarket shelves, the chances are that they're British-based. Even some of the big European brands that sell products here would supply Ireland with bars and biscuits manufactured in the UK.
The same goes for retailers own-brand stuff, most of which would normally be made under contract by British biscuit firms.
And that was all fine pre-Brexit – the products just moved freely across the Irish Sea. But once the UK left the EU, things became far more complicated.
So how are these products treated now?
Under the Brexit deal that came into force at the start of last year, if you have a British-made product and you export it to the EU, you don't pay any tariff. And the same applies in the other direction.
But if you import a product from a 'third' country, and then export it to or from the EU – you do pay a tariff.
These are referred to as the 'rules of origin'.
But there is a middle ground between those two situations.
That means that if you import a product from a third country and do something with it to change it, like mix it with lots of other things to create an entirely new product, you might be able to bypass the tariff when you export it.
But it's not a straight-forward thing, and there are some fairly complex rules and regulations that producers have to follow.
So even if you can technically bypass the tariff, you now have to produce a lot of paperwork to explain how and why that's the case. And that all has to be checked at ports of entry, which slows the supply chain down and adds time and costs to each delivery.
So even if the cost of the ingredients or production isn't changing, suddenly it's costing that little bit more to get the products from the factories in the UK onto the shelves in Irish supermarkets.
Does that mean Irish biscuits are cheaper?
Not really.
Post-Brexit, British flour can still be imported tariff-free, but under those 'rules of origin' a €172/tonne tariff is applied if more than 15% of that flour comes from somewhere else.
And the reality is that many big flour users here – particularly bread-makers – are having to import flour with a lot of non-UK wheat in it, so they're having to deal with that tariff.
And while some have changed supply lines to try to source from mainland Europe, Bord Bia estimates that about 78% of flour that comes in here is still coming from the UK.
As a result, the cost of all baked goods is going up.
CSO data doesn't tell us how biscuits and cakes are affected – but it does tell us what's happening to the price of bread.
If we compare December 2020, just before Britain actually left the EU, and June 2021 – which is before things like energy prices started to really ratchet up – we can see the price of a large white sliced pan rose by 5.4% - from around €1.30 to €1.37. Which is a big jump in just six months.
A brown sliced pan, meanwhile, went up by 7.5% in the same period – from €1.47 to €1.58.
Of course it's not just Brexit that's disrupted our supply chain - the pandemic has had a massive impact too. That means that the cost of goods coming from further afield is a lot more expensive, too.
Weather-related wheat shortages in Canada and war-related declines in Ukraine's output mean that flour and grain prices are rising, too. While rising energy prices are pushing up production and transportation costs, which is impacting the price of other ingredients.
Unfortunately, that all means things are likely to get worse in the coming months.
Are prices really going up, though?
You might think that, despite this, you've not seen much change in the price of a packet of biscuits. And you might be right.
But what you could be missing is that the packet of biscuits you're buying is not what it used to be.
This is because a lot of firms will use what's called 'Shrinkflation' to covertly sneak a price rise in.
Essentially what they're doing is keeping the price the same but giving you less for it – maybe there's one less biscuit in the pack, or each biscuit is slightly smaller than before.
This is also a classic tactic with chocolate bars – some big brands have shrunk by more than a quarter in recent years while the cost has stayed the same, or maybe even gone up.