The percentage of households renting in Ireland rose from 18% to 29% over the past 20 years and just over half of those renting are in receipt of some form of State support, according to a report from the Economic and Social Research Institute.
The report also finds a wide variation across local authorities in the rent paid by tenants in receipt of supports.
The increase in the number of households renting over the past 20 years reverses a long term decline in the past century and also poses big challenges in how those who can not afford market rents are supported.
The ESRI highlights that just under 300,000 households, or 54% of those in rental accommodation, now receive supports, administered through local authorities.
However, these vary dramatically by area.
A lone parent with two children on an annual income of €25,000 could pay monthly rent on subsidised accommodation of €255 in Fingal while over the border in Meath they would pay €450.
The report also finds that qualifying income limits have remained largely unchanged since 2011, making more households ineligible for social housing.
The report notes the number of applicants for Housing Assistance Payments, or HAP, has doubled since 2017 and expenditure has more than tripled to just under €0.5 billion.
However, fewer new rental properties and the pace of rental inflation has pushed many properties beyond HAP limits.
In 2000, there were 1.228 million households in the State. This rose to 1.86 million households in 2020.
The number of households renting has increased from 220,699 in 2000 to 545,006 in 2020. This is an increase from 18% to 29% of households.
We need your consent to load this rte-player contentWe use rte-player to manage extra content that can set cookies on your device and collect data about your activity. Please review their details and accept them to load the content.Manage Preferences
The percentage of households renting in the State had been in long-term decline over the second half of the 20th century.
The biggest increase has been in private renters. These rose from 57,245, or 4% of households, in 2000 to 251,33, or 13% of households, in 2020.
---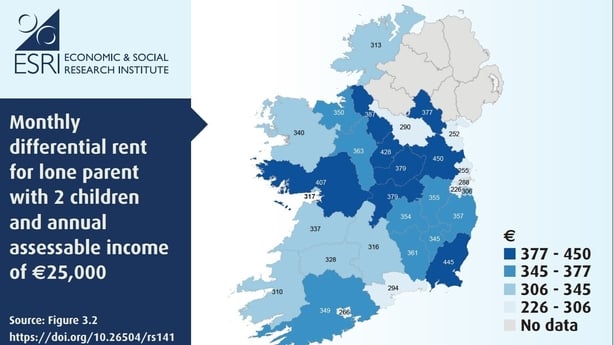 ---
The number of renters in receipt of direct or indirect State support rose from 153,361 in 2000 (12% of households) to 293,673 in 2020 (16% of households). This is equivalent to 54% of those renting.
The report notes that household income limits for qualifying for social or supported housing have been frozen since 2011.
This has resulted in the percentage of households eligible to apply for housing supports falling from 46.8% in 2011 to 33.9% in 2019.
Rent limits on properties eligible for the Housing Support Payment (HAP) have also not been increased since 2017. This has meant a reduction in available properties for this scheme across most local authority areas.
The report finds that just 6% of one-bedroom tenancies in Dublin are under the HAP limits. It also found a reduction of at least 50% in the availability of two-bedroom tenancies in 14 of the 31 local authorities.
The report warns that because contributions to rent differ so much across local authorities, and the fact that income limits have not been revised upwards, there is the risk of "weakening the financial incentives of future housing support recipients to earn more."
John-Mark McCafferty of the charity Threshold said that he was not surprised by the figures, saying that it reflects the challenges people are facing.
Calling for a ban on evictions he said that although there are policy frameworks, taxes for the smaller landlord should also be examined as the charity has advocated for better tax treatment for the smaller landlord in order to keep them in the market.
Speaking on RTÉ's Today with Claire Byrne, Mr McCafferty said that renters on middle and lower income tenants tend to rent from smaller landlords and many of these landlords are leaving the market.
---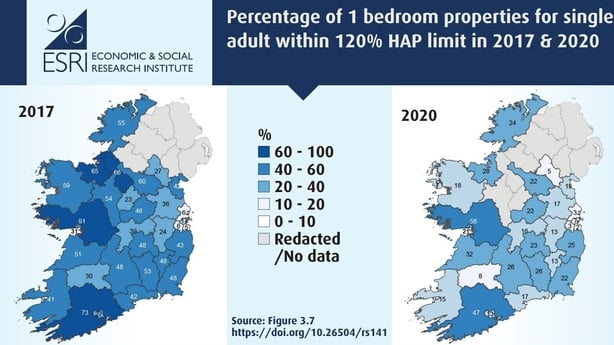 ---
One of authors of today's ESRI report said there has been a resurgence in people renting homes while over half of those renting in the private sector are receiving government supports.
There has been a shift in the numbers receiving support and how they are receiving that support, Dr Barra Roantree said.
He explained there has been some increase in those living in local authority approved housing but the bulk of the increase in supports has come about through the rental accommodation scheme, rent supplement and HAP.
Dr Roantree said the income eligibility criteria was set in 2011 when incomes were quite low.
Since then incomes have increased but the criteria has not changed, which means less households are qualifying for supports.
Speaking on RTÉ's Morning Ireland, he said there is also a limit on the cost of renting a property and those limits have not kept up with changing times either.
This means, he said, that it is getting harder for people to both qualify for supports and to find a place to rent.
Dr Roantree said about 6% of properties for single adults in Dublin fall under the limits and this number can vary across regions. In Dun Laoghaire/Rathdown it drops to around 2% while it is a little higher in Dublin City, he said.
Rent limits are also not linked to rents in particular areas, he added, which means that identical families can receive a different level of support in different parts of the country, even if they are renting a property that costs the same amount.
Dr Roantree said this system is difficult to justify.
He also said that about a fifth of those who receive housing supports are in the top half of income distribution.
This is because many peoples' income have improved since they first received supports. However their contribution has not increased and this feeds into problems that local authorities have with maintaining and managing properties.
Meanwhile low income households that are fully exposed to the problems of the private rental market are excluded from qualifying for support.
Ultimately there are not enough affordable properties to rent, he said.