New figures from the Central Statistics Office show that, on average, households are situated 5.6km from a remote work hub and 1.6km from a childcare service.
The CSO said its new "Distance to Remote Work Hubs and Childcare Services" survey provides insights on the differences in service accessibility at regional and county level.
It complements the 2019 "Measuring Distance to Everyday Services in Ireland" publication which looked at how close or far away people in Ireland lived from common everyday facilities such as schools, hospitals, public transport stops, post offices and banks.
Today's figures show that residential dwellings in Cork city (1.6km), Dublin city and Galway city (2.1km) had the shortest average distance to a remote work hub while those in Donegal (8.9km), Cork county and Meath (8.4km) had the longest.
82% residential dwellings in the State were less than 10km away from a remote work hub, the CSO added.
---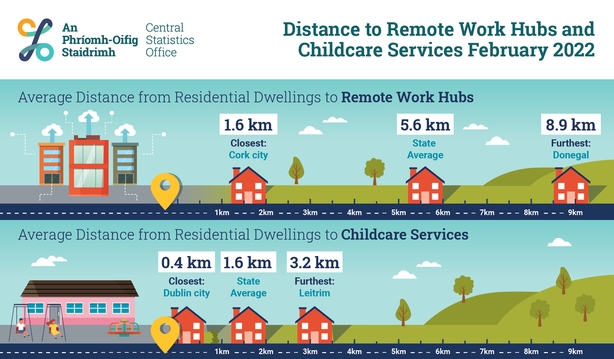 ---
Today's report shows that 58% of residential dwellings in the State are situated less than 5km from a remote work hub. In Donegal this was 41%, while in Dublin city, it was 97% for the same distance.
Meanwhile, a childcare service on average was located 1.6km from a residential dwelling in the State.
Homes in Leitrim (3.2km), Roscommon (3km) and Mayo (2.9km) had the longest average distances to a childcare service while those in Dublin, Cork city and Galway city had the shortest distances to travel.
58% of homes were situated less than 1km from a childcare service, the CSO added.
Commenting on today's figures, Barry Cahill, Director of Taxback.com's Employee Financial Wellbeing Service, said that flexible and hybrid work set ups are becoming increasingly popular.
He said the Government's Remote Working Hub strategy should serve to support the movement away for the more traditional office-based 9-5 approach.
Taxback.som recently surveyed 1,000 people nationwide and found that six in ten workers "love the idea" of remote working hubs and would be willing to use one of the Government's new Connected Hubs facilities, if there was one in their area.
This report suggests that some areas are much further along than others in terms of providing access to these hubs - so there is more work to do - but we are moving in the right direction," Mr Cahill said.
The State has invested more than €100m upgrading former banks, Garda stations and other disused buildings to convert them into remote working hubs.
"The target is to have 400 hubs by 2025. And if our survey is anything to go by, the demand for these facilities could do well to drive an even greater supply, be it from Government or private bodies," he said.
Mr Cahill said that work hubs could really come into their own in the wake of the pandemic as organisations in certain industries come to the realszation that staff do not always have to be on-site.
"They would also be beneficial for regional development and could really deliver for local economies, perhaps even feeding into addressing our rising property price issues," he added.