Aldi Ireland has been granted planning permission to build a €10m store in Carrigaline, County Cork.
The store will be centrally located just off the new Carrigaline Western Relief Road which is currently under construction and expected to be completed later this year.
Sixty jobs will be created during the construction phase, with 30 permanent roles being created upon opening.

The 1,315sqm store will be powered by 100% green electricity and will feature 52 Photovoltaic solar panels located on the roof. It will have four electric vehicle charging points at the new store along with 12 bicycle rack stands.
The store is part of an ambitious vision for furthering the growth of Carrigaline's town centre, including a new public plaza for the local community, a café, almost 80 residential units, and opportunities to develop further dining and leisure space.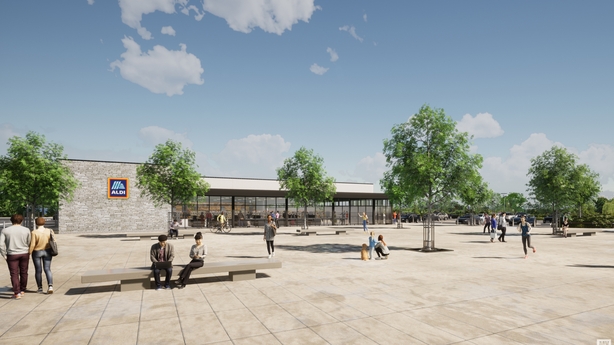 Colin Breslin, Aldi Regional Managing Director, said the retailer was delighted to receive planning permission after working closely with Cork County Council and local residents to open a store in Carrigaline.
"Research we conducted locally has shown us just how strong the demand is for a new Aldi store in Carrigaline, with 73% of respondents stating they would likely do most of their grocery shopping in Aldi should a store open in town. We look forward to investing in the area and bringing our award-winning offerings to the people of the town."
Aldi said its 24 stores and distribution centre in Cork are deeply involved with their local communities. To date, the stores and distribution centre have donated over 289,000 meals to local charities through FoodCloud, saving the charities more than €365,000. Each store is also part of Aldi's Community Grants network, with Cork Simon Community and Midleton Meals on Wheels some of the many local charities that have availed of the €500 bursary grant in recent years.
Aldi also partners with 31 innovative food and drink producers across Cork, spending €62 million with them in 2021. The retailer said it is committed to growing its Irish supply base and increasing the number of Irish products available in its stores. It is currently working with over 330 Irish food and drink producers, and spent €1 billion with its Irish suppliers in 2021.