Two young farming entrepreneurs from County Meath have won the top prize at this year's Student Enterprise Awards.
The Local Enterprise Office initiative, which is in its 20th year, challenges students to create and run their own business.
17-year-old Theo Staunton and 16-year-old Matthew Kealy from St Patrick's Classical School in Navan were named the winners of the Senior Category.
"It is still sinking in, I just can't beleive it - I'm over the moon," Theo said speaking on Morning Ireland.
Their company Barrelda turns plastic barrels into farm equipment, such as meal troughs and calf teat feeders.
The pair have sold 22 products since starting their business, and they hope to develop new products and continue trading into the future.
Since winning the award yesterday, Theo said the orders are flooding in.
"We'll be flat out now for the summer," he said.
By recycling these plastic barrels, Theo said they are working to make the farming industry more sustainable.
"Myself and Matthew want to continue farming and for us to do that we really do need to be sustainable," he said.
"We are giving farmers more options to be sustainable and we think that should help," he added.
We need your consent to load this rte-player contentWe use rte-player to manage extra content that can set cookies on your device and collect data about your activity. Please review their details and accept them to load the content.Manage Preferences
Almost 24,000 students took part in the Student Enterprise Programme this year, which is supported by Enterprise Ireland and the local authorities.
The winner of the intermediate category was 'Earrings by Aoibheann' from Loreto College, Dalkey in Dublin.
Developed by 14-year-old Aoibheann McNally when she couldn't find earrings for sensitive ears, she handmade a range of hypoallergenic earrings that can be worn by all.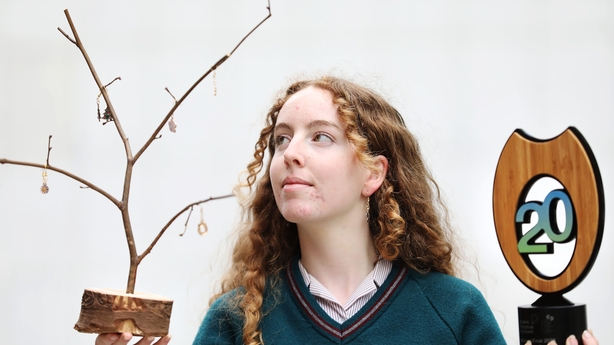 The winner of the junior category was 'Sew Stylish' from St, Brigid's College, Callan in Kilkenny.
Ciara Ryan created a collection of multi-functional hair scrunchies from recycled materials that allow the wearer to discreetly store small items such as money and lip-gloss.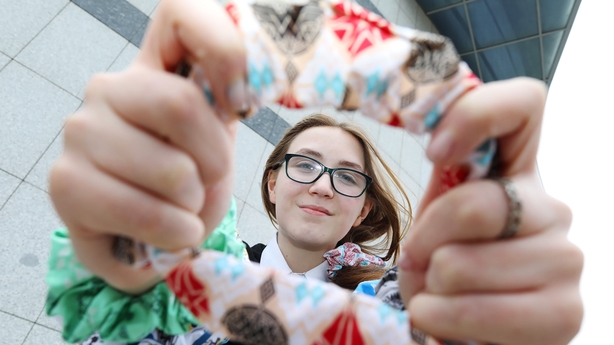 Since the Student Enterprise Programme began in 2003, over 300,000 students have taken part.
Padraic McElwee, Chair of the network of Local Enterprise Offices said the aim of the programme is to give students a taste of what it is like to run their own business.
"As many people know, that is not a straight path," he said on Morning Ireland.
There are ups and downs - sometimes a product doesn't work or the cost involved is too much, so really it is to give them a flavour of that.
"Ultimately as a Local Enterprise Office we help early stage start-ups, but with this we're trying to encourage future entrepreneurs or future business leaders," he said.
Mr McElwee said he was very impressed by the standard of the entries this year, and added that the future of business is bright.
"I'm encouraged by our future business leaders, and that is really important for Ireland as a country," he said.