The European Commission said today that Ireland's GDP is expected to keep increasing significantly with growth rates of 5.4% predicted for this year and 4.4% for next year.
But the Commission said the growth rates are slightly slower than previously expected due to higher inflation, supply bottlenecks and uncertainty created by the Russian war against Ukraine.
These will all negatively affect private consumption and investment.
In its Spring 2022 Economic Forecast, the Commission noted that Ireland's GDP grew robustly in the first quarter of 2022 due to the ending of all Covid-related restrictions in February.
It said that business sentiment remained "upbeat" at the start of the second quarter, which showed that conditions for growth remain broadly intact despite the impact of Russia's invasion of Ukraine.
"While Ireland's direct economic exposure to Russia and Ukraine is minor, as a highly open economy it remains exposed through trade and supply chain linkages, as well as through rising inflation, which erodes real household incomes," it added.
The Commission also said today that modified domestic demand, which better reflects underlying domestic economic activity, is expected to expand by 4.6% in 2022 and 3.8% in 2023.
Today's Spring Economic Forecast also said that inflation is rising and expected to remain high for longer, albeit moderating in 2023.
It said Russia's invasion of Ukraine exacerbated pressures on energy prices, which are now expected to remain high for longer, while it also created new supply disruptions of food products for which Russia or Ukraine are major producers.
It noted that inflationary pressures have become broad-based amid high post-Covid demand, supply bottlenecks and second-round effects of high energy prices.
"Inflation is expected to peak around mid-2022 and moderate thereafter as the impact of high energy prices starts to wane," the Commission stated.
---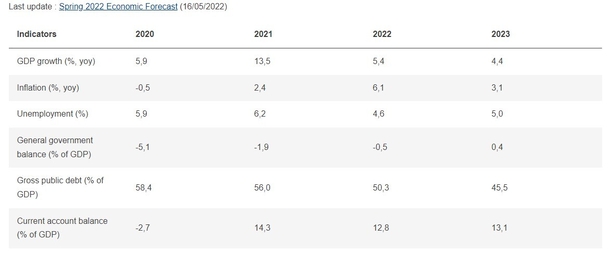 ---
The Commission also said today that the country's net exports are projected to remain resilient and an important source of growth.
The fiscal outlook is set to further improve, with the budget balance set to reach a surplus of 0.4% of GDP in 2023.