New figures from the Central Statistics Office show that residential property prices outside of Dublin continued to grow a higher rate than in the city in the year to January.
The CSO said that home prices increased by 14.8% nationally in the year to January - the fastest rate of growth in almost seven years.
It compared to an increase of just 2.5% the same time last year and was also higher than the growth rate of 14.3% in December.
But the rate of monthly growth eased to 0.9% from 1% in December, the CSO noted.
Today's figures show that property prices outside Dublin were 16% higher in the year to January, while Dublin residential property prices saw an increase of 13.3%.
Dublin house prices increased by 13.6% and apartment prices increased by 11.8% in the year to January.
The CSO noted that the highest house price growth in Dublin was in Dublin City at 15.1%, while South Dublin saw a rise of 12.3%.
Outside Dublin, house prices were up by 15.9% and apartment prices up by 17.5%.
The region outside of Dublin with the biggest increase in house prices was the Border at 24.7%, while at the other end of the scale, the Mid-West saw a 13.8% increase.
Property prices nationally have increased by 115.6% from their trough in early 2013, the CSO said today.
Dublin residential property prices have risen 120.4% from their February 2012 low, whilst residential property prices in the Rest of Ireland are 119.4% higher than their trough in May 2013.
The median price of a home bought in the 12 months to January 2022 was €280,000.
The lowest median price for a house in the 12 months to January 2022 was €130,000 in Longford, while the highest median price was €595,000 in Dún Laoghaire-Rathdown, the CSO noted.
A total of 3,517 home purchases at market prices were filed with Revenue in January of this year, up 0.9% compared to the 3,484 purchases in January 2021, with the total value of transactions filed in January coming in at €1.2 billion.
---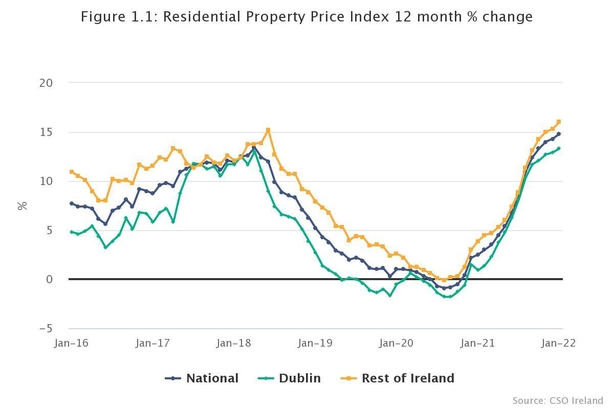 ---
Today's figures show that existing dwellings accounted for 82.4% of the purchases filed in January, an increase of 2.7% compared to January last year. 17.6% were for new dwellings, a decrease of 6.5% compared to January 2021.
In the year to January, 46,452 home purchases were filed with Revenue. Of these, 31.9% were bought by first time buyer owner-occupiers, while former owner-occupiers purchased 53.8% and the rest were acquired by non-occupiers.
Meanwhile the Eircode area with the highest median price for household dwelling purchases was A94 'Blackrock' with a price of €697,500.
The CSO said the five most expensive Eircode areas by median price were in Dublin. The second most expensive Eircode area was D04 'Dublin 4', where the median price was €680,000. The third most expensive area was A96 'Glenageary', which had a median price of €630,000.
We need your consent to load this rte-player contentWe use rte-player to manage extra content that can set cookies on your device and collect data about your activity. Please review their details and accept them to load the content.Manage Preferences
Outside of Dublin the most expensive Eircode area over the last 12 months was A63 'Greystones', with a median price of €499,950.
The second most expensive Eircode area was A98 'Bray', where the median price was €430,000. The third most expensive was W23 'Celbridge', which had a median price of €390,000.
The least expensive Eircode areas over the last 12 months was H23 'Clones', with a median price of €96,000.
Commenting on today's CSO figures, KCB Bank Ireland chief economist Austin Hughes said the January increase brings Irish house prices back within 3.3% of their 2007 Celtic Tiger' peak meaning that the previous peak will probably be overtaken in these official data in the next few months.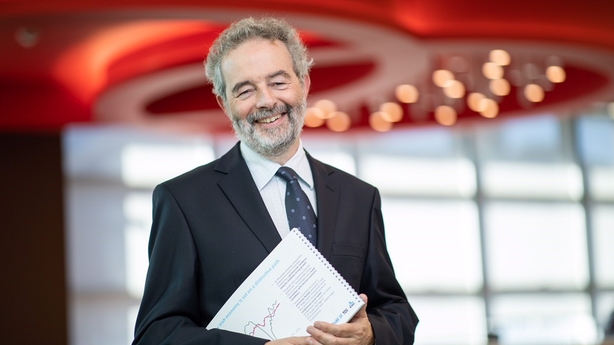 The economist said he expects the very bumpy path to a slower and more sustainable pace of increase in Irish house prices will continue.
"The market is currently dominated by buoyant home-buyer demand. In the near term, this is underpinned by a strong jobs market and the prospect of faster wage growth in 2022 as well as a rebuilding of household deposits in December 2021 and January 2022," Austin Hughes said.
But he added that the increased global uncertainty and the likelihood of rising ECB interest rates later this year as well as the expectation of improved new housing supply may introduce some increased caution into the market.
"For these reasons, we may be close to peak pressures at the moment but we may not be at peak prices," he added.