New figures from the Central Statistics Office show that the number of new homes granted planning permission grew by 1.5% in 2021 when compared with 2020.
The CSO said that planning permissions were granted for 42,991 homes in 2021, up from 42,371 in 2020.
Of this total, 26,272 were for apartments and 16,719 were for houses.
The CSO said that apartment approvals rose by 6.5% in the year, while house approvals decreased by 5.6%.
More apartments than houses were granted planning permission on an annual basis in 2020 and the CSO said that trend continued in 2021.
Today's figures show that of the 16,719 houses granted planning permission in 2021, 44.9% were one-off houses and 55.1% were multi-development houses.
The CSO noted that the number of one-off houses granted planning permission rose by 41.7% on an annual basis, while the number of multi-development houses granted approval declined by 25.7%.
During 2021, the region with the highest number of apartment units granted planning permission was Dublin with 18,908.
The border region - Cavan, Donegal, Leitrim, Monaghan and Sligo - with 109 apartment units had the lowest.
The county with the most houses granted planning permission was Cork with 2,189, while Leitrim had the lowest with 74 houses.
---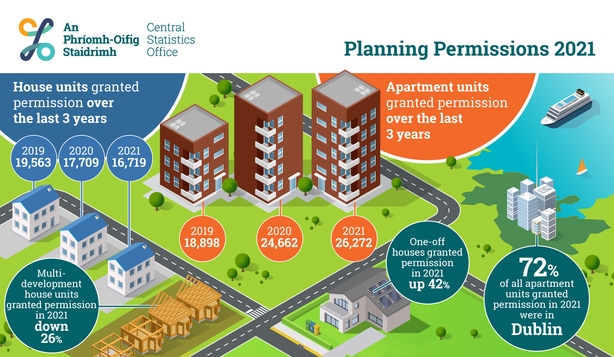 ---