Sinn Féin TD Pearse Doherty has said the "so-called" reduction in excise on petrol and diesel has been immediately eroded with prices today higher than they were on Tuesday.
Late last night, the Dáil voted in favour of a cut in excise on petrol and diesel and the change came into effect overnight.
The reduction is 20 cent per litre on petrol, 15 cent per litre on diesel and a cut of 2 cent per litre on green diesel.
The reduction will be in place until 31 August and will cost €320m.
It is in response to the impacts of inflation and the Russian invasion of Ukraine on the Irish economy.
Speaking during Leaders' Questions today, Mr Doherty said people are panicking and struggling to make ends meet.
"Half measures simply doesn't cut it. You could have done more," he told Government ministers.
The Donegal TD also criticised the Government for not cutting taxes on home heating oil, saying it needs to "hurry up" and cut excise further on petrol and diesel.
Minister for Transport Eamon Ryan said the energy crisis has been "with us" for a year.
The €200 credit on energy bills will be seen in bills this month, he said, along with a 20% reduction on public transport introduced this week.
We need your consent to load this rte-player contentWe use rte-player to manage extra content that can set cookies on your device and collect data about your activity. Please review their details and accept them to load the content.Manage Preferences

He said these will not cover all the price rises but said Government will remain flexible in its approach.
Mr Ryan indicated that European Union laws may change around energy taxes.
"The Taoiseach is going to be working with European colleagues to see if we can do more," Minister Ryan said.
Minister Ryan said the Competition and Consumer Protection Commission will be issuing a communication shortly "to allay public fears" around cuts in excise duty.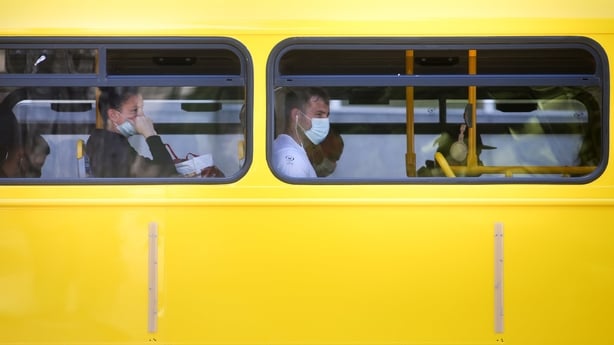 He was responding to Fine Gael's Fergus O'Dowd, who said that "petrol dealers are challenging directly the authority of this Government" by pocketing cuts in excise duty.
The Minister of State with Responsibility for Consumer Protection said if consumers have evidence of cartel behaviour or abuse of dominance in the fuel sector, they should contact the Competition and Consumer Protection Commission (CCPC).
Robert Troy said he has spoken to his officials about the issue and they are liaising with the CCPC on the matter.
The added that the commission will work to ensure consumers are aware of their rights and that businesses are aware of their obligations.
Mr Troy said the issue of price increases at the petrol pumps is a concern for both consumers and businesses.
Yesterday, many businesses described the cut to excise duty as insufficient.
Coach tourism and transport operators said the viability of the sectors is now under direct threat.
Petrol Retailers Association refutes 'goughing' claims
The Irish Petrol Retailers Association has strongly refuted claims that any of their members are failing to pass on the excise cut to petrol and retail prices that came in at midnight.
Spokeman David Blevings said that was absolutely not the case and there was no price goughing going on.
He said retailers had stock in their tanks prior to the excise change, on which they paid the higher excise duty rate and there is no way they can immediately take off the 15 or 20 cent per litre or they would lose money.
He said one retailer contacted him today who is losing €7,000 on his stock as he is having to sell at a loss in order to compete with other retailers in his area.
Mr Blevings pointed out that costs of refined products from crude oil move daily and there has been a 76% increase in diesel and a 50% increase in petrol.
He said if the market goes up 20 cent per litre again tonight, that is in the retailer's buying price the next day and they have no choice but to pass it on to consumers.
Ireland 'not in a position' to cap fuel prices
Last night, Minister for Finance Paschal Donohoe said the country is in the early days of dealing with the economic consequences of the war in Ukraine.
Ireland, he said, is not in a position to place a cap on rising fuel prices, as it is a country that must buy the majority of its own fuel.
Asked about the prospect of price regulation - which has been called for by the Opposition and touted by the EU - Mr Donohoe said it remained to be seen how that would be implemented for countries who by-and-large import most of their fuel, which was the case for Ireland.
"We're not in the situation where we have access to the majority of our fuel needs from our own sources. That means the relationship that we have with external supply is very important.
"For that reason, we're not in a position to be able to give a commitment in relation to putting a cap on the price of fuel.
"For a country that has to buy most of its own fuel, I currently don't see any way that a price cap could be implemented, that wouldn't either cause further economic difficulties or would cause an issue with the supplier".
Additional reporting: Will Goodbody, Joe Mag Raollaigh