Flutter Entertainment today posted an 11% fall in 2021 earnings as easing Covid-19 lockdowns lowered demand, sending shares in the world's largest online betting firm down over 13% at one stage today.
Flutter had cut its full year core earnings guidance, excluding its heavy investment in the US, to between £1.24-1.28 billion in November after a run of high profile results from Premier League soccer to heavyweight boxing filled punters' pockets.
Adjusted EBITDA at the owner of Paddy Power, Betfair and FanDuel came in at £1.24 billion, 11% lower than the record £1.4 billion in 2020.
Flutter also cited regulatory changes and increased spending on initiatives to curb gambling addiction for the dip in earnings.
Bookmakers generally suffer when favourites win and adverse sports results cost £149m in the fourth quarter.
While the number of average monthly customers jumped by 23% to 7.6 million, continuing a surge that began during lockdown, gambling patterns in Flutter's main markets returned to pre-coronavirus pandemic levels, chief executive Peter Jackson told reporters.
Flutter kept its number one position in the rapidly growing US market with a 40% share, down from 42% at the end of September.
Revenue of £1.4 billion, up 113% year-on-year, was nearly 50% higher than its nearest competitor, Flutter said.
The Dublin-based group expects to turn the £243m loss in earnings in the US into a profit next year for the first time since a ban on sports betting was lifted in 2018.
The number of bets FanDuel took for last month's Super Bowl, the biggest event in the US sporting calendar, doubled to 8 million, while its app was the second most downloaded behind Comcast's Peacock, which streamed American Football's showpiece game.
"It was a real watershed moment for FanDuel, really breaking through to the mainstream in the US," Jackson said.
Assuming a normal run of sports results, Flutter expects revenue growth to accelerate in 2022 across the group from the 2% year-on-year rise in the first seven weeks of the year.
The company said today that it was continuing to monitor the situation in Ukraine and Russia closely.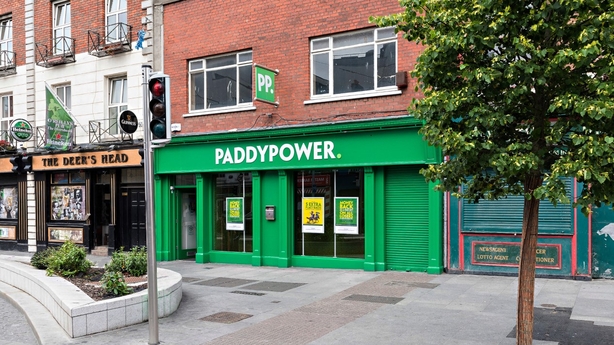 "Since completion of our merger with TSG, Flutter has materially reduced its exposure to the Russian online market. In 2021, Russia accounted for £41m in contribution. In addition, Ukraine represented contribution of £19m," it added.
Flutter said that revenue at its UK and Ireland Retail operations declined by 13% last year, reflecting the impact of Covid related shop closures and social distancing restrictions that were in place during the year.
Both its Irish and UK shops remained shut during the first quarter of the year, with its UK shops re-opening in April and its Irish shops re-opening in May.
Revenue in the second half of the year was approximately 85% of 2019 levels, with a stronger performance in the UK than in Ireland.
"In the UK we have been pleased with footfall. Revenue performance in H2 was in line with that of 2019, benefiting in particular from a strong gaming performance, with gaming revenues 13% higher than 2019, the company said.
"In Ireland by contrast, revenue in H2 remained at just 67% of 2019 levels, with performance reflecting a higher level of societal caution in relation to Covid," it added.
Peter Jackson, Flutter's chief executive, said that 2021 was another strong year for the group as it made good progress against its strategic objectives and grew its recreational customer base to over 7.6 million customers.
The company yesterday launched its new sustainability strategy, "Positive Impact Plan", which will see Flutter set a positive agenda for future change.
"Through this strategy we will build on the significant progress already made in areas such as safer gambling and measure our performance against defined goals to demonstrate how we are responsible leaders in our industry," Mr Jackson added.
In a note today, Goodbody Stockbrokers analyst Gavin Kelleher said he was inclined to reduce his 2022 EBITDA forecast by 7% after the "mixed update".
Shares in the company ended over 12% lower in Dublin trade.