Aer Lingus has today reported an operating loss, before exceptational items, of €347m for the year to the end of December, an improvement on the loss of €361m reported in 2020.
The airline, which is owned by IAG, had posted an operating profit, before exceptional items, of €276m in 2019.
Passenger revenues for the year came in at €302m, while cargo revenues amounted to €65m.
But today's results figures show that Aer Lingus also had the lowest passenger capacity, relative to 2019, of the entire IAG group.
We need your consent to load this rte-player contentWe use rte-player to manage extra content that can set cookies on your device and collect data about your activity. Please review their details and accept them to load the content.Manage Preferences
"We've had two years of losing almost a million a day, and this is stark but sadly not surprising," said Aer Lingus CEO Lynne Embleton on RTÉ's Morning Ireland. "The travel restrictions in Ireland were, as we know, the most stringent in Europe, the travel ban lasted until mid-July and the US, which is our main long-haul market, was closed to visitors for the majority of the year.
"Aer Lingus was hit hard, and harder than other airlines within IAG."
Aer Lingus is targeting a return of 90% of its 2019 capacity this year, which Ms Embleton says is an achievable target.
"We're building up and ramping up capacity week on week," she said. "Today we have the resumption of our San Francisco regular services, we have Shannon transatlantic coming next month, we've got Aer Lingus Regional, operated by Emerald, is looking to start this weekend, so all ramping up and looking for a good summer.
"The bookings at the moment are looking good for leisure, particularly around holidays, business travel has a little bit more to go, but that's picking up too and the near-term is getting there but we're looking really quite strong for the summer peak."
Ms Embleton said it was too early to know the full impact Russia's invasion of Ukraine would have on its recovery plans, however she hoped Aer Lingus would recover well this year.
Aer Lingus does not operate flights in Ukraine or Russia, but is still likely to face some knock-on effects from the conflict.
"I do expect the knock-on effects, such as rising fuel prices, that will be felt across the industry," she said. "Aviation has dealt with volatile fuel prices before, and we will again."
IAG expects to return to profit in Q2
Aer Lingus owner IAG expects to return to profit from the second quarter of this year as it restores flights closer to pre-pandemic levels, after reporting a multibillion-euro loss for the second year in a row.
The group, which also owns British Airways, Iberia and Vueling, said today it expected passenger capacity to reach 85% of pre-pandemic levels this year, following a collapse to just 36% of 2019 levels last year.
That led to a €2.97 billion net loss compared to a €4.39 billion loss in 2020.
IAG, which said it was now avoiding Russia's airspace following the invasion of Ukraine, forecast a "significant" operating loss for the first quarter of 2022 due to normal seasonality, the impact of the Omicron coronavirus wave on near-term bookings and the cost of re-building capacity.
But, it expects operating profits from the second quarter, leading both that measure and net cash flows from operating activities to be "significantly positive" for the year.
It said Omicron had affected bookings in January and February, but had had a minimal impact on bookings for Easter and summer 2022.
"We are confident that a strong recovery is underway," IAG's chief executive Luis Gallego said.
The group's forecast assumes no further setbacks related to Covid-19 and government-imposed travel restrictions or material impact from "recent geopolitical developments" which it is monitoring closely.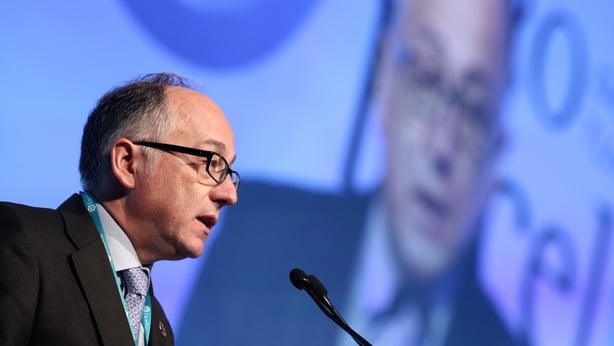 Shares in IAG are down 19% over the last year.
They fell 6% yesterday after Russia's invasion of Ukraine caused oil prices to jump, with Brent rising above $105 a barrel for the first time since 2014 on fears of disruptions to global energy supply.
Also, without access to Russia's airways, experts say airlines face having to divert flights south while avoiding areas of tension in the Middle East - adding significant cost at a time when they are still reeling from the pandemic.
IAG, which operates 533 aircraft between 279 destinations, has been slower than some of its peers to recover, due to its exposure to the slow-to-open British market, the long-shut UK-US route and smaller cargo division.
Passenger capacity in the fourth quarter was 58% of 2019 levels, up from 43% in the third.
Meanwhile, IAG is now avoiding Russian airspace for overflights and cancelled its flight to Moscow on Friday after British Prime Minister Boris Johnson banned Russia's flagship airline Aeroflot from Britain, CEO Luis Gallego said today.
"Following the UK government decision to ban Aeroflot from landing in the UK, we have taken the decision not use Russian airspace for overflights," Gallego said. "We are avoiding Russian airspace for the time being."
"The impact for us is not huge because right now we are only flying to a small number of destinations in Asia and we can reroute our flights," he added.