A third of tourism businesses that are experiencing difficulties in recruiting and retaining staff may have to close if the shortages in the market are not resolved, a new survey has found.
79% of such firms also said they may have to reduce their capacity or trading hours, if they are unable to find the right skills, according to the research conducted by the domestic tourism agency, Fáilte Ireland.
A similar proportion of respondents said the staffing crisis is causing added stress or impacting negatively on customer experience.
Fáilte Ireland estimates there are around 40,000 vacancies in the tourism sector right now, caused by the impact that Covid-19 restrictions have had on businesses over the past two years.
It said the recruitment and retention challenge only emerged as the industry re-opened.
Four in ten tourism and hospitality workers claiming the Pandemic Unemployment Payment did not return to their pre-pandemic employers, with many moving sectors and others returning to their home countries abroad.
The tourism agency has cautioned that the resulting current acute staffing and skills shortage is one of the greatest barriers to recovery for businesses.
"The pandemic has had a profound impact on the industry's skill base, with a mass exodus of workers into other industries that reopened earlier," said Paul Kelly, chief executive of Fáilte Ireland.
The problem is being exacerbated by competition from other markets which is set to become even more fierce, as well as unprecedented mobility across employment sectors, Fáilte Ireland said.
We need your consent to load this rte-player contentWe use rte-player to manage extra content that can set cookies on your device and collect data about your activity. Please review their details and accept them to load the content.Manage Preferences
The issues are particularly acute among chefs, with 88% of employers reporting they are having "considerable difficulty" recruiting them.
Food and drink service is also an area where recruitment is struggling, with 70% of businesses reporting considerable difficulty.
Retention is also a problem for many firms too though, with 51% of firms saying they are having considerable difficulty retaining chefs, and 45% have considerable difficulty holding onto those in accommodation services.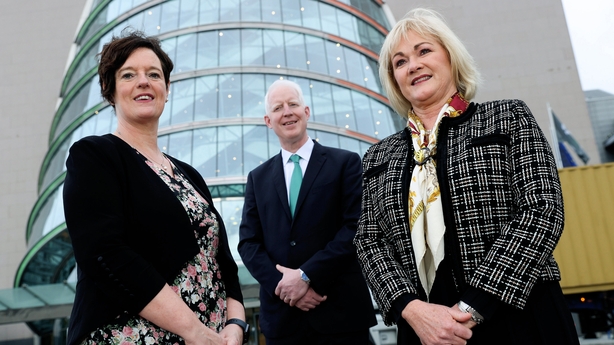 Unsocial hours, competition from other employers and unrealistic wage expectations were among the factors that employers said were behind the challenge of recruitment and retention.
Among employees, respondents said they generally enjoy the working environment in the sector, but they had mixed views on career prospects, security of tenure, hours, with particular dissatisfaction expressed about pay.
The research was conducted with 1,000 businesses and 3,500 tourism and hospitality employees.
The issue is being discussed at a conference in Dublin organised by Fáilte Ireland, the first big gathering of the industry here since before the pandemic began, with around 800 people attending.
The organisation said it had responded to the recruitment and retention challenge by rolling out a robust and wide-ranging work programme in collaboration with the industry and jobs.ie.
"There are three key action areas where Fáilte Ireland will support industry," said Jenny De Saulles, Fáilte Ireland's Director of Sector Development.
"Fundamentally they are about getting the people, keeping the people and upskilling the people – and each of these go hand in hand," she said.
"If you have good retention and development programmes, people are more likely to want to work for you," she added.
Another area of discussion at today's conference is the rising cost of doing business, with tourism operators reporting increased bills for light, heat, labour, food and beverages, insurance and a range of other services.
In order to help boost the recovery in the sector, Fáilte Ireland has announced a €10m marketing campaign aimed at getting people to take domestic breaks this year.
It is also putting funding in place to enhance the digital capabilities of over 400 tourism business and producing four regional tourism strategies.
Despite the challenges, the agency is predicting a strong recovery in inbound tourism based on air access, projected to be 83% of 2019 levels.