Retail sales fell back in December compared to November, while they were also lower on an annual basis, according to the latest figures from the Central Statistics Office.
The volume of retail sales in December was 3.2% lower than in November. They were 2.2% lower than December 2020.
But the CSO said that compared to December 2019, the volume of retail sales was 4.8% higher.
The largest decrease in December compared to November was in bar sales, which were down 34.7%.
However, compared to December 2020, the volume of bar sales was up 36.6%. Compared to December 2019, pre-Covid, sales were down 49.3%.
Sales in the motor trades were down 18% annually while electrical goods were down 8.5%. Sales of pharmaceuticals, medical and cosmetic articles were up 9.8%.
Price inflation was noticeable in some areas too. Fuel sales volumes fell in the year to December 2021 by 3.5%.
However, the value of those sales was actually up by 21.5%, reflecting the difference due to higher prices.

Separate credit and debit card usage compiled by the Central Bank showed today that spending this month to January 23 rose 26% year-on-year.
All Covid-19 restrictions for the hospitality sector were unexpectedly lifted early last Saturday.
---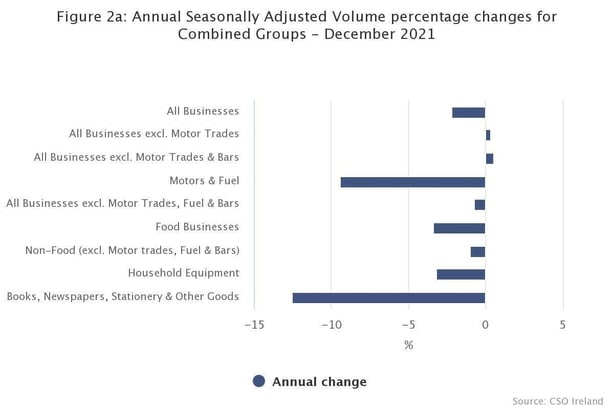 ---