Activity on the Aer Lingus website peaked on Monday, reaching pre-pandemic levels last recorded in March 2020.
Reid Moody, the airline's Chief Strategy and Planning Officer said demand is strong for St Patrick's Day weekend, where the extra bank holiday is giving people an incentive to go away.
Speaking on Morning Ireland, he said there is a lot of interest in travel to the USA over that long weekend.
Weekend breaks abroad and ski breaks are also popular, according to Mr Moody, while many families appear to be planning to travel during the February midterm.
He said there is strong demand for the usual routes to the Canaries, Spain and Portugal over Easter and the Summer, while there is also a huge amount of interest in the US routes.
Mr Moody said there has also been a lot of demand for inwards tourism and business travel.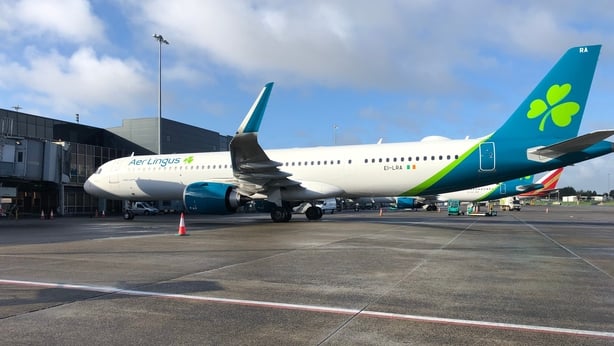 Elsewhere, Nicola Duggan, the General Manager of the Sneem Hotel in Co Kerry, said they have also seen a trend of increased bookings for the season ahead.
Speaking on Morning Ireland, Ms Duggan said they have seen increased bookings with the announcement of the additional bank holiday in March.
"March/April last year we were closed, so we would compare it to 2019," she said.
"So we're seeing an increase from 2019, anything up to 20% of increase."
We need your consent to load this rte-player contentWe use rte-player to manage extra content that can set cookies on your device and collect data about your activity. Please review their details and accept them to load the content.Manage Preferences
Ms Duggan said they depend a lot on the domestic market and they are "very confident" in it.
However, she said they are concerned about the over 55s and the active retirement market, which she said they have not seen the return of since the pandemic began.
"We've seen trickles of it, but not a huge amount of it, and this is a huge part of our business as well," she said.
"We're hopeful that we will see it come back and we hope that the trend of bookings continues in the next couple of months, but we would like to see all of the markets come back."