We learned a lot more this week about the shifting patterns of trade on our island.
CSO figures for trade in goods for November and the full 2021 report on traffic at Dublin Port filled out what seems a pretty well established pattern, now prompted by the complications of Brexit.
Cross border trade continues to grow.
In the eleven months to November 2021, compared to the same period in 2020, exports of goods to Northern Ireland grew by 48% or just over a billion euro to €3.305 billion.
Imports of goods from Northern Ireland grew by 64% or €1.44 billion to €3.7 billion over the same period.
Discerning how much of this trade is down to companies switching suppliers from Britain to suppliers in either Northern Ireland or the Republic and how much is down to goods just being routed through the North is difficult to gauge.
Trade with Britain is changing too.
Over the eleven month period to the end of November, exports to Britain grew by 20%, or €2.3 billion, to €13.4 billion.
Imports over the same period fell by 21% or €3.3 billion to €12.5 billion.
There's no doubt, however, that how goods arrive on our island has completely changed.
In Ireland, in 2020, just over 51m tonnes of cargo were handled through our ports.
That was down 3.5% on 2019.
But 2020 was an odd year for lots of reasons.
We don't have the full year figures for 2021 yet.
In Northern Ireland, just over 27m tonnes of cargo were handled in 2020, which was down 1.1% on the previous year.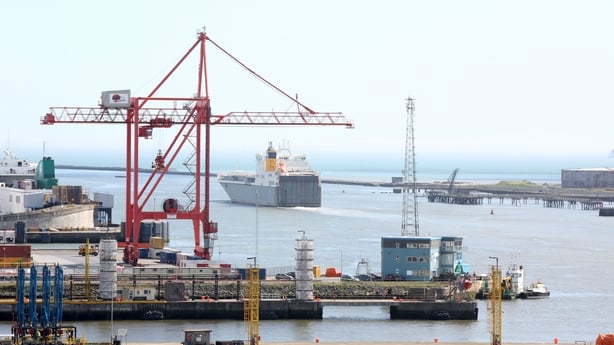 We can find clues, however, in the more up-to-date traffic statistics published by Dublin Port.
The port still accounts for just over 60% of all vessels arriving in Ireland.
It also accounts for just under half of the total tonnage of goods arriving into Ireland.
So what's happening between the North and South Walls will give a good idea of what's happening to our trade.
According to their trade figures for 2021, published this week, there has been a 5.2% decrease in volumes to 34.9m tonnes.
This all prompted Eamonn O'Reilly, the Chief Executive of Dublin Port, to say the landbridge across Britain is 'dead.'
But beneath the overall figure, there are some interesting changes afoot.
Firstly, there's good news that amidst all of the disruption of the past two years, there hasn't been the kind of traffic chaos at the port many had feared.
But things have changed, nonetheless.
'Unitised volumes' which includes containers loaded on and off ships and those that are driven, on routes to and from ports in Britain like Holyhead and Liverpool, were down by 214,000.
But this was offset by an increase of 158,000 units on direct routes to the Continent.
This means that GB routes accounted for 52% of unit loads in 2021 which is a significant reduction on the 64% attributable to these routes in 2020.
Dublin has been losing traffic overall, largely due to the reduction on ships coming in from GB, but this is being compensated by more traffic coming from Europe.
This all prompted Eamonn O'Reilly, the Chief Executive of Dublin Port, to say the landbridge across Britain is 'dead.'
If so, good news for mariners and those who handle their vessels.
However, the ongoing negotiations on a trade deal between the EU and the UK that either solidifies or modifies the Northern Ireland protocol are not over yet.
There may yet be more surprises for how our island trades with the rest of the world.