EBS has begun a review of its operations which could see its future focus shift to strengthening its mortgage business while also achieving efficiencies in other areas.
RTÉ News understands that no decisions have yet been made about what those efficiencies might be and that the review is ongoing, with a final plan expected to be agreed this year.
As well as offering residential mortgages, EBS offers personal banking and savings services and sells pensions and insurance products on an agency basis.
The lender currently operates more than 400,000 current and savings accounts for its customers.
It also has an extensive network of around 68 branches and offices across the country which employ approximately 360 staff, with additional employees based in its head office.
"In the rapidly changing banking environment, EBS continues to invest in its digital capability, distribution network and customer proposition in order to support a growing number of customers seeking to buy a home," a spokesperson for EBS said.
"In line with this support for our customers, EBS is also undergoing a number of strategic changes that build on the current proposition. In the event of any developments to our services, we will notify our customers," the spokesperson added.
EBS has been part of the AIB Group since it was bought during the banking crisis in 2011 for €1, after the state took control of both banks.
But EBS operates as a standalone and separately branded subsidiary from AIB.
If EBS were to decide to focus its future business on mortgages and reduce its other services, it could therefore spell a further setback to competition in the Irish banking landscape.
Both Ulster Bank Ireland and KBC Bank Ireland announced plans last year to exit the Republic of Ireland market leaving a combined 1.4 million customers facing the prospect of having to move accounts to other banks.
Ulster Bank said in December that it would give customers up to six months' notice, beginning early this year, to close their accounts before it leaves the market.
Permanent TSB is set to buy €7 billion of Ulster Bank performing non-tracker mortgages, along with its performing micro-SME loan book, Lombard Asset Finance loan business and 25 branches.
KBC customers will also have to find a new home for their current accounts when it begins the process of exiting later this year.
Bank of Ireland is set to take in KBC's deposits as part of a wider deal that will see it buy the lender's performing loans.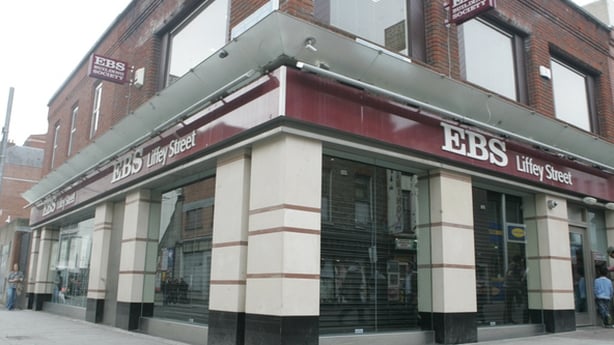 In 2020, EBS reported a loss before tax of €77m, down from a profit of €4m a year earlier.
The main driver of the loss was an increase in its expected credit losses on loans to €80m, caused by the impact of the pandemic.
That year it had a total loan portfolio worth €11.2 billion made up entirely of mortgages, with some €11 billion owner-occupier, and the remainder split equally between buy-to-let and commercial.
It also had retail deposits of €5.4 billion.