Emerald Airlines, the new operator of the Aer Lingus Regional service, is to open a base at George Best Belfast City Airport.
The carrier intends to operate flights between the city and six other destinations.
These are Birmingham, Edinburgh, Exeter, Glasgow, Leeds Bradford and Manchester.
The company said it would announce further routes later this year.
The flights will operate under the Aer Lingus Regional brand with a codeshare arrangement also hoped to be in place with British Airways.
However, the new base will not impact on mainline Aer Lingus and BA services between Belfast City and London Heathrow and London City airports.
"We are in advanced talks with British Airways and Aer Lingus regarding code sharing and other cooperation so that we can maintain the continuity and benefits of the current services offered by both airlines at Belfast City Airport," said Conor McCarthy, CEO of Emerald Airlines.
"Operational set-up continues at pace, with the Belfast City Base, our UK AOC and employee recruitment progressing extremely well."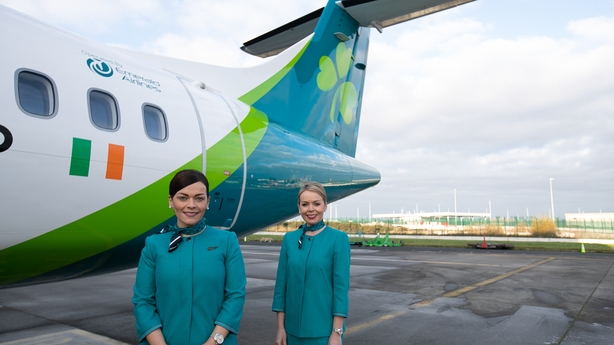 He added that the airline has had over 1,000 applications for its Belfast based jobs.
"We are very pleased to secure a long-term partnership with Emerald Airlines that will see the return of the Aer Lingus Regional product to Belfast later this year," said Matthew Hall, CEO of Belfast City Airport.
"Emerald's commitment to Northern Ireland will ensure not only the continuity of these regional routes that have been operated by mainline Aer Lingus and British Airways since last summer 2021, but also presents a significant opportunity for new routes and additional frequency."
Emerald Airlines won the 10 year deal to operate the Aer Lingus service last August and in December it announced that the start date was being brought forward by 10 months.
The previous operator of the service, Stobart Air, collapsed last year.
Flights will begin on February 26 and Emerald Airlines will be flying over 360 flights per week across 12 routes from Dublin Airport.
Last week, the Department of Transport also revealed that Emerald Airlines had won the Dublin-Donegal PSO route contract from the state.