The equivalent of almost €37 million worth of food, drink and horticulture products was exported from Ireland every day last year to customers in more than 180 countries worldwide, according to Bord Bia.
That saw annual exports increasing by 4% on 2020 to a record €13.5 billion with the value standing 2% higher than 2019 levels.
The outcome was achieved despite the ongoing Covid-19 pandemic and the official departure of the UK from the EU at the end of 2020.
Last year, the UK and EU accounted for 33% each of food and drink exports with international markets outside of those regions accounting for the remaining 34%.
In comparison, in 2016, 32% of exports went to international markets with 31% going to the EU and 37% to the UK.
"The EU was the largest single regional destination for Irish food, drink, and horticulture, as the value of exports increased by 2% to €4.5 billion last year," the report noted.
"The value of exports to the UK was €4.4 billion last year, which was a very slight decline on the previous 12 months. Some categories saw a shift in exports to Northern Ireland rather than to Great Britain, due to a combination of serving new customers in NI and also partly as a route for onward shipment to northern parts of Britain."
The US market rebounded strongly in 2021, with export values up over a fifth to €1.3 billion driven by strong whiskey and liqueur sales.
In sectoral terms, dairy - which was worth more than €5 billion last year - remains the largest element within Irish food and drink exports, followed by meat and livestock, which generated over €3.5 billion in export sales, and prepared consumer foods, which was worth more than €2.5 billion.
We need your consent to load this rte-player contentWe use rte-player to manage extra content that can set cookies on your device and collect data about your activity. Please review their details and accept them to load the content.Manage Preferences
"Notwithstanding last year's record performance, there are a number of challenges ahead for the Irish food and drink sector," Tara McCarthy, CEO of Bord Bia warned.
"These include increased supply chain and input costs, which are affecting producers and processors, and the ongoing impact of Brexit, which has yet to be fully implemented. While the transition period ended on December 31, 2020, the UK has not yet started physical inspections of food and drink imports, and this is due to begin at the start of July," she said.
Furthermore, a tightening labour market has been adding to mounting costs.
Ms McCarthy said the industry had resisted passing the higher costs onto consumers.
However, speaking to Morning Ireland, she said there were 'concerns' around cost of living increases when it comes to food.
"There is some passing on, but there's huge resistance to that as well," she explained.
"If you look at any of the inflationary numbers, food has been stubbornly down at 1 or 2% while energy can be up at 20% and I'm hearing labour increases of 20 to 40%. Those numbers are rarely associated with cost increases in supermarkets so you're looking at resistance, but it's a challenging one."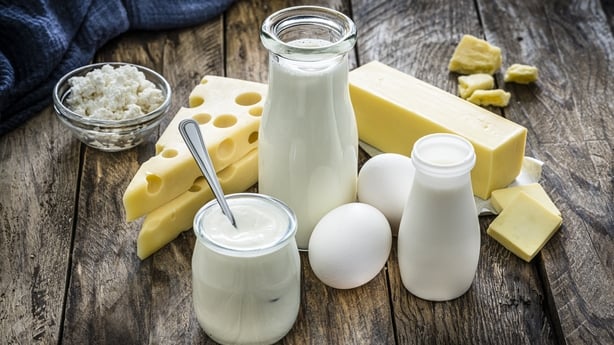 On the shifting patterns of trade with the UK and the declining percentage of exports going to that market, Ms McCarthy said it had to be viewed in the context of the wider figures.
"That evolution since 2016 belies the growth. There's been an extra €2 billion added to our exports so hence when we see growth from international markets, it's new business that we're driving.
"However, we have to be sensitive to the fact that, as we put one year down of the UK trading outside of the EU customs union, at the same time, it's only been partially implemented, so we have to stay focused on our preparations for that," she said.
Climate and environment obligations present further issues to the wider industry.
"The increased focus on sustainability brings both challenges and opportunities for the food sector," Tara McCarthy said.
"Consumers want healthy natural food and Ireland can deliver on that demand, but we must also work collectively and collaboratively to reduce carbon emissions to meet our 2030 commitments, and to further embed sustainability within all production, manufacturing, and distribution activities," she concluded.
Minister for Agriculture, Food and the Marine, Charlie McConalogue said today that Irish food and drink producers had enjoyed an excellent year.
"Our world-class and globally-renowned food and drink sector continues to be one of the brightest shining lights of our economy," the Minister said.
"Given the difficult external factors, such as the Covid-19 pandemic and our nearest trading partner the UK moving outside the EU Customs Union, this really was an outstanding export performance by the food and drink sector, supported by Bord Bia," he stated.
Charlie McConalogue said the country's food and drink producers continue to innovate and seek new markets for their products, adding that it is "truly heartening" to see such an impressive performance from Ireland's largest indigenous industry.
"Total agri-food exports, including non-edible products not included in Bord Bia's report, are estimated by my Department to be worth €15.2 billion in 2021, compared to €14.3 billion the previous year," the Minister said.
"This vital sector supports jobs in rural and urban communities throughout the country and my Department, along with the excellent team in Bord Bia both at home in Ireland and its overseas offices, will continue to work to support our primary food and drink producers and manufacturers as they face the challenges of the year ahead, and seek to further enhance the value of Irish exports," he added.