The household savings rate declined to 16.7% in the third quarter of 2021 but still remained twice the long-term average rate, according to the Central Statistics Office.
The savings rate is an aggregate figure for the incomes of households less what they spend. It had stood at 20.3% in the second quarter of last year.
Overall, during the pandemic spending has not kept pace with incomes.
However, this is the second consecutive quarter during which households spent more and saved less. Some of this was accounted for by inflation, with prices on average up 2% compared to the third quarter of 2019.
Today's CSO figures show that incomes were higher in the third quarter of 2021 compared to the same quarter in 2019, pre-pandemic.
This was because salaries rose for those in work and Government payments like the PUP and the Employment Wage Subsidy Scheme supported incomes.
The CSO found that incomes in all sectors, except for the Arts and Entertainment, were up compared to the third quarter 2019.
Compared to the third quarter 2020, incomes were up across all sectors except for a "slight decrease" for employees in agriculture. Workers in retail and hospitality saw a strong increase in their incomes compared to 2020.
---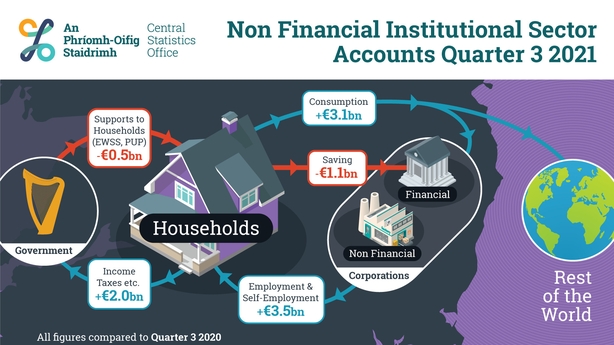 ---
The CSO also quotes Central Bank data to show that of the total savings of €5.8 billion over the three months from July to September 2021, €2.8 billion or 48% found their way into deposit accounts in Irish banks, earning only low rates of interest.
Other savings went into pension funds and paying off debt. Investment in new housing or renovations was largely unchanged on the same time in 2020.