The chief economist of the European Central Bank, Philip Lane, has said he believes inflation will come down later this year and that the current high rate is part of what he calls a "pandemic cycle of inflation".
Figures from Eurostat showed inflation across the euro area rising to 5% in December, a new high for the single currency area.
Energy prices rose on an annual basis by 26% in December across the euro area accounting for over half of the record 5% inflation recorded last month. The inflation figure for Ireland was 5.7%.
Speaking in an interview with RTÉ News, Professor Lane said inflation pressures will ease this year.
We need your consent to load this rte-player contentWe use rte-player to manage extra content that can set cookies on your device and collect data about your activity. Please review their details and accept them to load the content.Manage Preferences
He said the current high rates should not be interpreted in relation to historical norms but were part of what he termed a "pandemic cycle of inflation" where extraordinary events over a three-year period have seen prices fall before rising sharply again.
Professor Lane did say, however, that energy prices were a "major economic issue" for the euro area, particularly the geo-political issues surrounding gas imports.
He reiterated the official ECB stance that it would be highly unlikely for interest rates to be changed this year.
Professor Lane said the 5% inflation rate in the euro zone in December should be interpreted in the context of the pandemic.
"The pandemic in 2020, the first year, led to unusually low inflation. Some of that reversed in 2021 and now in 2022 we've a third leg of this pandemic episode," he said.
"We do think in this year inflation is going to come down. It's going to be above where we want it to be in the long term but this three year period, 2020, 2021 and 2022 is basically part of a pandemic cycle, if you like, in inflation," he stated.
"In that sense it should not be interpreted in terms of historical norms. The pandemic is a unique episode," he added.
Philip Lane did acknowledge, however, that energy prices are a "major economic issue" for Europe.
He said there are particular 'geo-political issues' around imports of gas, on which Europe is dependent.
However, he said he expected supply pressures to ease in the oil market and that LNG imports were helping with gas supplies.
"The fact that energy prices have risen so much, is a major concern," Professor Lane said.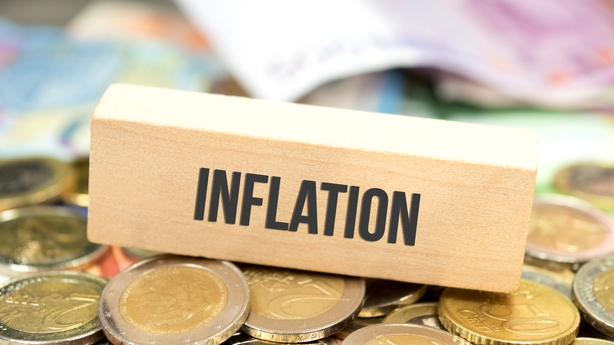 "The European economy is a major importer of energy. The fact that prices have risen so much does mean that compared to last year's rate of increase, there's probably less upside this year. But there are factors we need to look at, geo-political issues among them for sure," he said.
Apart from energy prices, the ECB is also keeping a close eye on whether the current bout of high inflation is having knock-on effects on wage agreements.
"One of the big issues for us this year is what's happening in terms of wage behaviour, " the ECB's chief economist said.
"We do expect wages to pick up. That in part reflects the fact that the labour market has been more resilient in the pandemic thanks, of course, to extensive government support in many labour markets," Professor Lane said.
"And if we have a stronger labour market in the coming years, then we should have stronger wage behaviour than before the pandemic," he said.
"To some extent, that's going to be what we want but we have to keep an eye out on whether wages move beyond that and move into the kind of second round effect which would be something of a concern," he added.
Claire Kerrane, Sinn Féin's spokesperson on social protection, said she takes "little comfort" from hearing that inflation should come down later this year.
Speaking on RTÉ's News at One, Ms Kerrane said workers and families are struggling right now.
"I don't think 'later this year' offers much comfort," she said.
"We have a major problem where people are getting up early in the morning, they're going to work, they're paying their taxes, and they're struggling to get by."