Homebuilder Glenveagh Properties said it closed 1,150 home sales in 2021 despite a 13-week lockdown in the first half of the year.
The figure was in line with guidance and marked a 64% increase on 2020 and a 36% increase compared to 2019.
In a trading update for the year ended 31 December 2021, Glenveagh said its revenues for the year rose to €476m from €232m the previous year.
Glenveagh said it finished the year with 605 suburban units contracted or reserved for 2022, which it said indicated strong demand, particularly from first-time buyers, and the maturing sales profile within the business.
"Strong demand is expected to persist due to favourable market conditions and the business is well positioned with all planning for the 1,400 suburban unit target for 2022 already in place," the company stated.
It also said its core suburban asking selling price was €308,000, down from €311,000 in 2020, which it said reflected its continued focus on suburban starter-home schemes.
Glenveagh said it has bought suburban land with the potential for 2,700 units in 2021, 75% of which has planning, at an aggregate cost of €72m.

Inflation remained a challenge for the sector in the second half of the year due to continued global supply chain constraints, Glenveagh said.
"The Irish housebuilding sector is experiencing an extraordinary point in time for cost and supply chain pressures and it is management's expectation that the current challenging environment, including inflation, should ease over time," the company said.
During the year, the group completed the sale of three individual urban developments.
Union Investment acquired the Castleforbes, Dublin Docklands, hotel site and subsequent development of the Premier Inn hotel as part of a €70m forward funding arrangement while Eagle Street acquired the Castleforbes, Dublin Docklands, residential and second hotel sites for €78.5m.
It also completed the sale of 75 units at Dargan Hall, Bray for approximately €25m.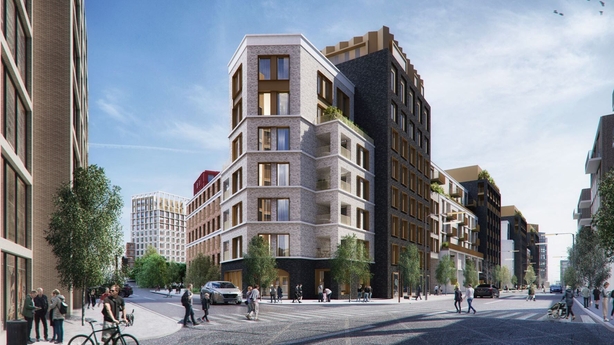 Glenveagh also agreed two "landmark" partnership deals for the proposed development of over 2,000 homes with Fingal County Council and Dublin City Council respectively.
The first agreement, with Fingal County Council, is for the proposed development of 1,200 homes, including social, affordable, cost rental and private homes, at Ballymastone, Donabate in north County Dublin.
The second agreement, with Dublin City Council, is for the proposed development of 853 social, affordable and cost rental homes at Oscar Traynor Road, Dublin.
A planning application will be submitted in 2022 with construction commencing immediately following planning being granted.
The company's chief executive Stephen Garvey said the business continues to perform strongly as it focuses on scaling its operations and delivering high quality, sustainable homes in Ireland.
"By prioritising our people, customers, communities, and the environment we are well placed to achieve our ultimate target of over 3,000 homes each year," Stephen Garvey said.
"As we look to 2022 and beyond, the next key challenge for our business and the broader industry is the impact of on-site labour shortages. Our ongoing investment in supply chain integration positions us well in this regard," the CEO said.
"Having delivered over 700 units from our timber frame factory in 2021, we will continue to prioritise our off-site manufacturing capability to enable us to innovate how we build the homes of the future. Taken together, this demonstrates the strength of our execution capabilities, business model and strategy," he added.