Hibernia REIT has pre-let the majority of its office development at Harcourt Square in Dublin 2 to professional services firm KPMG Ireland.
KPMG has signed an agreement to lease 288,500 square feet and 76 car parking spaces on a 20-year term.
The deal will allow KPMG to bring together its growing Dublin based employees under one roof at its new headquarters.
KPMG, which currently employs more than 3,800 people with plans to grow to more than 4,000 in 2022, will move to the new office in 2026.
"This development will provide a blank canvas to cater for the evolving needs of tomorrow's workforce and to engage in new and innovative ways with clients by leveraging the latest in technology and innovation," the company said.
KPMG will pay an initial rent of €17m a year from lease commencement and will receive the equivalent of 40 months rent free through an incentive and enhanced fit-out.
KPMG also has options to lease up to a further 48,500 sq. ft. on the same terms, which could take its occupancy at Harcourt Square to 337,000 square feet in total.

Hibernia acquired Harcourt Square, which is located in the centre of Dublin, in 2015.
The leases on the existing 122,000 square feet of office accommodation expire by the end of December 2022.
Hibernia received a final grant of planning permission for the redevelopment of the 1.9 acre site in 2020.
KPMG Managing Partner Seamus Hand said the agreement with Hibernia REIT is a major milestone in its continuing growth and success and is one of the most exciting steps in the firm's history.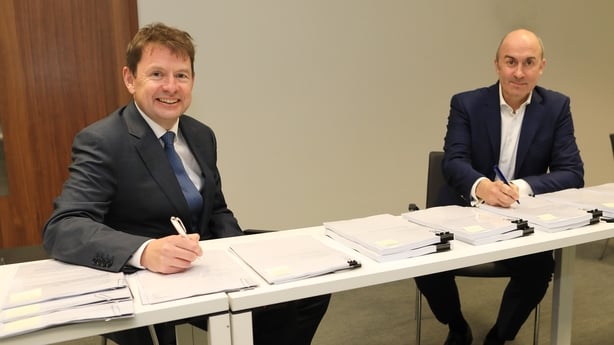 "We are ambitious for, and confident in, the outlook for our business and our people collaborating and learning in our new office will have a critical part to play in that future success," Mr Hand said.
"This will be one of the biggest developments in Dublin city centre for the next few years and clearly demonstrates our confidence in the capital's role at the heart of Ireland's economy," he added.
Kevin Nowlan, chief executive of Hibernia, said that the Harcourt Square development will deliver world class, energy efficient office buildings in Dublin's historic core.
"This pre-let substantially de-risks our near-term development pipeline and represents an important step for us in achieving our strategic priorities of asset clustering and ESG excellence," Mr Nowlan said.
"It is also a significant expression of confidence in the Dublin office market and in the quality of Hibernia's offering for businesses and their people in the new work environment," he added.