The chief executive of Ulster Bank has said the lender will not be closing any branches here during the first half of next year, as part of its withdrawal from the Republic of Ireland market.
Jane Howard also told the Joint Oireachtas Committee on Finance, Public Expenditure and Reform and Taoiseach, that customers would not be formally asked to begin the process of moving their current and deposit accounts to other banks until the end of the first quarter of next year.
She also there would be no bank wide voluntary redundancies before the end of June 2022.
Ms Howard said the bank expects to hear in January whether or not its binding agreement to sell a portfolio of €4.2bn in performing commercial loans will require a phase two investigation by the Competition and Consumer Protection Commission or not.
She added that Ulster Bank and Permanent TSB are both working very hard towards a binding agreement on a proposed sale of performing non-tracker mortgages, performing micro-SME business loans and the Lombard Asset Finance business, as well as 25 Ulster Bank branches, for €7.6bn.
"I would be hopeful that we would be able to reach that in the very near future," she said.
Ms Howard told committee members that assuming the Permanent TSB deal moves to a binding agreement and should the CCPC approve both it and the AIB loan sale, Ulster Bank would ideally like to see the majority of the assets moved later next year, in the third or fourth quarter.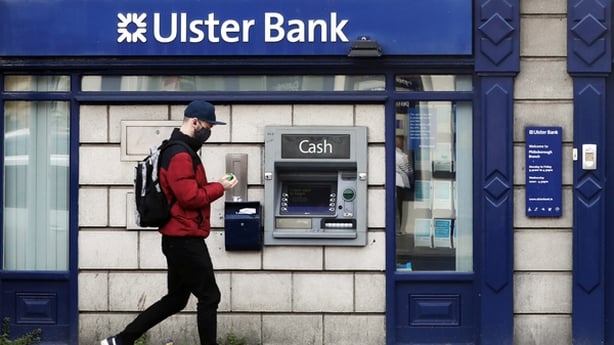 Questioned by Sinn Féin's finance spokesman, Pearse Doherty, about the fate of Ulster Bank's tracker mortgage book, Ms Howard said there is a "process" underway in respect on that.
But she declined to give any details about what other parties might be involved in that process.
She pointed out though that if an Ulster Bank tracker mortgage customer is happy with their product, they shouldn't look to move it ahead of any potential sale to another institution, as to do so could result in them losing their current terms and conditions.
Regarding what would happen to Ulster Bank's remaining 5,300 remaining non-performing loans, the CEO said the bank continues to work with these customers to try to get them into a position where the loans are performing again.
She said the bank has made a deliberate decision not to deal with the non-performing loan book until it had dealt with its performing assets, in order to give as many customers as possible time to work with the bank to get them performing so that they can be included in a sale of performing assets.
"There will come a time when we will have customers that we can't get on to a performing basis and we will have to deal with a non-performing loan sale," she added.
"That is not the priority now. The priority now is to support customers."
"It is unlikely to happen in 2022 and it is more likely to happen after that time."
Director of Corporate Affairs, Elizabeth Arnett, told the committee that when it comes time for customers to move their accounts to another bank, which won't start until next year, they will be given six months notice to complete the process, rather than 60 days required under regulatory rules.
On the future of branches, Ms Howard said 25 would be included with the sale to PTSB.
"With the remaining ones, I think we have said they will be remaining open to serve our customers certainly for the first half of next year and then we'll start to reduce the counter services so that our colleagues in our branches can support customers with their transferring to a new bank," she said.
Around 300 staff are set to transfer to AIB from Ulster Bank as part of the binding agreement covering the commercial loan sales and Ms Howard said between 400 and 500 would likely move to Permanent TSB in the event a binding agreement is reached with it on the sale of mortgages.
She said a process to understand which roles would transfer is underway involving Ulster Bank and Permanent TSB.
Ms Howard said she would hope to be able to give a more precise figure of the numbers moving once a binding agreement is reached, with the final number not being known until completion is reached.
Remaining staff, the committee was told, are receiving assistance to ensure they are skilled up for the future, with each set to receive a training grant as they leave the bank.
Asked about how seamlessly assets could be moved to other banks, particularly because of differing IT systems, Ms Howard said it was not unreasonable to say that none of the parties would be likely to sign a binding agreement unless they had confidence about the transaction, including the actual transfer of the assets.