Lawyers for Web Summit Chief Executive Paddy Cosgrave have said claims made by a former director of the company in court documents are "categorically denied".
Mr Cosgrave's legal team were responding to allegations of shareholder oppression, bullying and conduct "unbefitting" of a CEO, made by a co-founder of the company, Daire Hickey.
Mr Hickey made the claims in an affidavit seeking to have his legal action against Web Summit's holding company, Manders Terrace, Mr Cosgrave and Mr Cosgrave's company admitted to the commercial division of the High Court.
Mr Hickey's case is the latest legal action involving Web Summit and its holding company, Manders Terrace Limited to come before the courts here and in the US.
In the first case, Manders Terrace is suing another co-founder, David Kelly over what Mr Cosgrave alleges was an attempt by Mr Kelly to secretly use the company's resources to set up an investment fund for his own personal gain.
Mr Kelly in turn has sued Manders Terrace and Mr Cosgrave over alleged shareholder oppression in relation a potential deal to sell the business.
Today, Mr Justice Denis McDonald approved the application to admit Mr Hickey's action to the Commercial Court despite objections by Mr Cosgrave's lawyers.
Senior Counsel Bernard Dunleavy argued that the action should not be admitted as some of the allegations were a decade old.
However, the judge agreed to admit the case despite being "unimpressed" by some of the historic allegations.
He accepted that Mr Hickey alleged he had only recently learned of allegations of attempts to destroy his reputation and undermine his shareholding in the company.
Mr Dunleavy told the court the allegations were very serious and were categorically denied by Mr Cosgrave and the company.
In the sworn document, filed on behalf of Mr Hickey's company Lazvisax Limited to support the application for admission to the list, Mr Hickey alleges the affairs of the Web Summit company are being conducted in a manner oppressive to his company and that of the other minority shareholder, Mr Kelly, and without regard to their interests.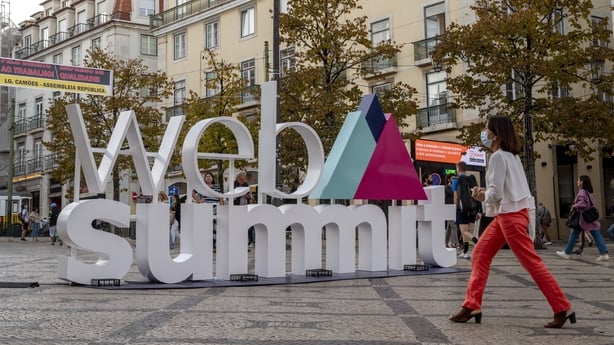 Mr Hickey said he met Mr Cosgrave at Trinity College Dublin in 2004.
He looked up to him and became involved with him in a campaign called 'Rock the Vote' which encouraged young people to vote.
He was invited to work on a planned Web Summit in Dublin in 2010.
He said he believes the Web Summit company is now worth between €200m and €350m.
He became a director of the company in 2012 but resigned in August 2019. His company and Mr Kelly's company were minority share holders in the business.
He said Mr Cosgrave's company Proto Roto held the majority shareholding but he said "it was always understood" between the three co-founders that the affairs of the company would be conducted in a manner which would benefit the shareholders equally.
Mr Hickey said he came to realise that Mr Cosgrave was a "highly egocentric, manipulative, volatile and vindictive individual" who demanded unsupervised control of all the Company's affairs and sought to run it entirely for his own benefit without any oversight.

When challenged, he said Mr Cosgrave typically reacted with extraordinary vitriol and would stop at nothing to exact revenge on those he believed had been disloyal or slighted him in some way.
He alleged Mr Cosgrave's conduct had been extremely damaging to the company's business.
Mr Hickey said there had been a complete breakdown in trust between his company and Mr Cosgrave's company leading to Mr Hickey's resignation as an employee in 2017 and as a director in 2019.
He said he had recently learned that since his departure, Mr Cosgrave and Proto Roto had repeatedly engaged in conduct directed towards undermining the value of Mr Hickey's interest in the company.
Mr Hickey alleged that the board of Manders Terrace did not function in any meaningful way.
He said he had difficulties in dealing with Mr Cosgrave's overbearing and aggressive approach to management.
He said Mr Cosgrave would routinely chastise and demean staff – in particular female staff - reduce them to tears or place them under an inordinate amount of stress.
He said one of Mr Cosgrave's favourite strategies was to gaslight employees who challenged or displeased him by questioning their contribution to the company and suggesting they should leave if they could not contribute more.
He described how one former employee of the company had a panic attack and fainted after she was publicly chastised by Mr Cosgrave about the number of chairs at a company event.
Mr Hickey alleged another former female employee made a formal complaint of bullying and harassment which he said was settled on a confidential basis for a very substantial sum of money.
He also accused Mr Cosgrave of engaging in conduct "entirely unbefitting" for the CEO of any business.
He said this included his public criticism of the IDA and the Irish Government after the Web Summit decided to hold the 2016 event in Lisbon in Portugal.

Mr Hickey also alleged Mr Cosgrave had unlawfully hacked the files of a competing company.
He said Mr Cosgrave had also maintained numerous petty vendettas against business or political figures he felt had slighted or underappreciated him.
He said Mr Cosgrave had a close relationship with businessman Denis O'Brien and sometimes flew on Mr O'Brien's private jet but that he turned against him when Mr O'Brien decided to sponsor a rival event.
Mr Hickey also alleged Mr Cosgrave had employed staff at the company's expense to procure information to advance a vendetta against Tánaiste and former Taoiseach Leo Varadkar.
He said he had invested €50,000 of the company's money in a takeaway food business run by a friend of his who was experiencing financial difficulties.
Mr Hickey also alleged Mr Cosgrave had improperly used company money to settle a High Court action brought against him by GP Dr Maitiú Ó Tuathail.
Mr Justice McDonald gave Mr Cosgrave and Manders Terrace until January to file their response to the claims after expressing surprise that parts of Mr Hickey's affidavit had been published in the media in advance of today's case.