Irish Distillers has announced plans to invest €13m to redevelop the distillery experience at Midleton Distillery in Co Cork.
Midleton Distillery is home to some of the world's most well-known Irish whiskeys, including Jameson, Powers, Redbreast, Midleton Very Rare, the Spot family and Method and Madness.
It also features the Irish Whiskey Academy, Irish Distillers' Archive and the Micro Distillery.
As part of the plan, the existing attraction will be transformed to accommodate new and interactive whiskey tours and various tasting experiences, where visitors will have the opportunity to explore more about the past, present and future of Irish whiskey production at Midleton Distillery.
The redevelopment will also deliver new shopping, bar, café and restaurant facilities.
Construction will start immediately and is expected be completed by 2025, in time to mark the 200-year anniversary of Midleton Distillery.
Irish Distillers said that an alternative purpose-built Irish whiskey attraction will continue to welcome visitors during the redevelopment in Co Cork.
PJ Hegarty & Sons have been appointed as conservation and construction contractor for the project.
New York headquartered Ralph Appelbaum Associates, who have specialist experience in the planning and design of cultural attractions around the world, will lead the design of the redevelopment project.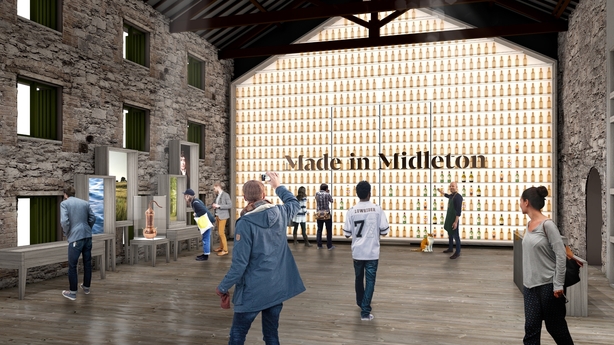 Conor McQuaid, Chairman and CEO of Irish Distillers, said that over the past 30 years, Midleton Distillery has become synonymous with Irish whiskey tourism, welcoming more than three million visitors from countries all over the world to East Cork.
"At Irish Distillers, we are always looking towards the future of Irish whiskey, which is why we are delighted to announce our plans for the redevelopment of the distillery experience at Midleton. Our ambition is to deliver an exceptional, world-class experiential offering which will bring whiskey lovers closer to the production process than ever before," Mr McQuaid said.