The chief executive of Ryanair has cast doubt on the willingness of air passengers to voluntarily offset their carbon footprint when flying.
Michael O'Leary said last year just 1% of the airline's passengers opted to offset the CO2 pollution from their journeys by paying more for their flights.
"I have no faith that consumers are willing to offset their environmental footprint," Mr O'Leary told the Eurocontrol-organised Aviation Sustainability Summit in Brussels this morning.
"We are going to have to have some sort of environmental taxation. I think that is the only way. If you ask consumers what do they want, they want low fares. When do they want it? They want it now," he told the summit.
"They are kind of willing to have some sort of environmental tax, really as long as somebody else is paying that environmental tax, rich people preferably but you know, as long as they are not paying it," he said.
"So ultimately we need some sort of carbon taxation system," he added.
Mr O'Leary also claimed that better air traffic control (ATC) regulation in Europe would have the single biggest effect in reducing carbon emissions from aviation.
"If we are really serious and Europe is really serious about reducing the environmental footprint of aviation, do something about the failed Single European Sky, reforming ATC," he stated.
"Nothing has happened in 20 years in Brussels on the Single European Sky. I've given up on the Single European Sky - it is never going to happen. It is a mess."
However, he claimed that deregulation of Europe's ATC providers would help and added that Eurocontrol has a central role in that.
"If we could eliminate air traffic control delays across Europe we would eliminate 95% of airline flight delays and cancellations," Mr O'Leary said.
"We estimate you would reduce fuel consumption emissions by between 10 and 20%."
"There would be no more important initiative that European aviation could introduce in the next five years between now and 2030, from an environmental perspective, than to really tackle reform of ATC."
Mr O'Leary said Ryanair has committed to 12.5% usage of sustainable aviation fuel by 2030, but that is a very ambitious target and he is not sure the airline is going to reach it.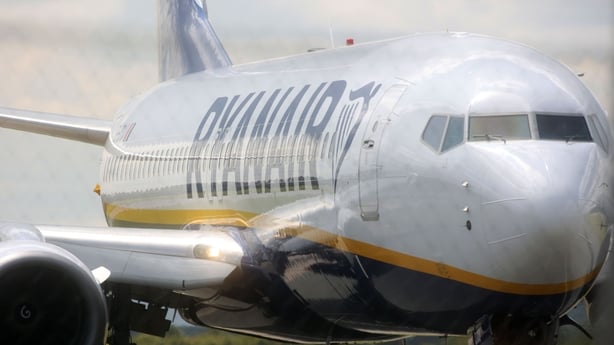 He said the challenge is that there is a lack of availability of sustainable aviation fuel and instead of putting environmental taxes back into producing it, Governments are spending the revenue from those taxes on other things.
The Ryanair boss also referred to the importance of the development of new technology, including new engines.
He said the airline's new Boeing 737 "gamechanger" aircraft use 16% less fuel and accommodate 4% more passengers.
In the first five months of their use, Ryanair had seen its fuel consumption fall 20% when compared to the previous aircraft used, although he added that load factors were also lower at 80-82%.
However, Mr O'Leary said to increase its sustainability Ryanair wants to maximise the number of passengers per aircraft per take off, as well as reducing fuel usage.
He said EU plans to reduce emissions from aviation would not be seen as serious unless they include long-haul carriers, adding the EU's plan for a green transition, Fit for 55, is "manifestly unfair" in this regard.