New figures from the Central Statistics Office show that consumer prices were 5.1% higher in October of this year compared with the same time last year.
The CSO said this is the largest annual change in prices since April 2007.
Higher energy prices remain the primary reason behind the escalating rate of inflation. But other goods and services are also going up.
Petrol prices were up 22%, diesel prices increased by 25% and home heating oil jumped by 71% last month compared to October last year.
Electricity prices were up 15.5%, while gas prices saw a 23% hike.
Services are creeping up too with rents up 7.5% and phone costs up 5%.
The ongoing recovery from Covid has seen hotel accommodation go up just over 17% and flights rose by up just over 72%.
Private rents are up 7.5%. DIY items are up just over 13% and major household appliances are up just over 9%. Food inched up at 0.8%.
The only category to fall on an annual basis was clothing and footwear.
The Finance Department last month said that inflation will peak at an average of 4.5% in the final quarter before falling below 2% next year.
However, it said the rate could be closer to 3.5% during 2022 if there were higher energy prices, prolonged global supply chain disruptions and greater short-term economic demand.
We need your consent to load this rte-player contentWe use rte-player to manage extra content that can set cookies on your device and collect data about your activity. Please review their details and accept them to load the content.Manage Preferences
---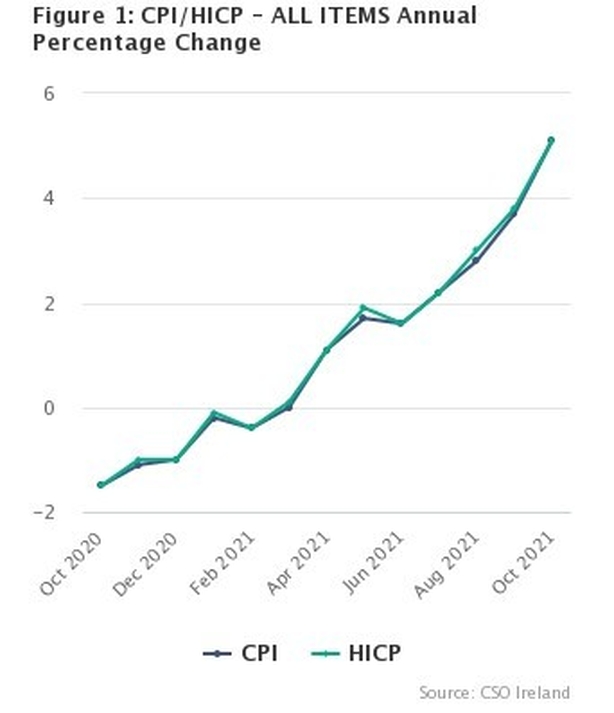 ---
The CSO said that consumer prices in October increased by 0.7% on a monthly basis.
This is the twelfth month in a row that has shown monthly inflation. During October of last year, prices fell by 0.6% in the month, the CSO said.
Euro zone consumers expect inflation to fall back after spike - ECB survey
Euro zone consumers expect prices in the bloc to grow by 3% in the next 12 months before easing back to the European Central Bank's 2% goal, an ECB survey showed today.
Euro zone inflation hit 4.1% in October and economists have started to warn it could stay above the ECB's target next year as higher energy costs and supply disruptions feed into wage and price expectations.
The results of the poll may cement the ECB's belief that the current surge in the cost of living is temporary because households are not bracing for it to continue after next year.
The median respondent in the ECB's Consumer Expectations Survey saw annual price growth at 3% for the coming 12 months and at 2% per year for the next three years.
"By and large households are very aware of the fact that there's a near-term surge in inflation, so that they're upgrading their one-year-ahead beliefs," Chief Economist Philip Lane said as he unveiled the survey's results.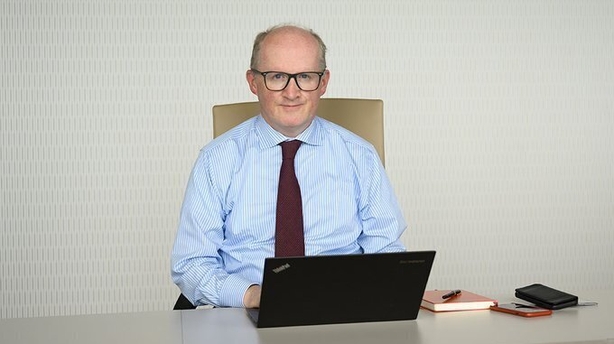 "But they're not changing, at least in terms of the median, the three-year belief. This suggests that at least the median respondent kind of agrees that this inflation surge is most likely temporary in nature," he said.
The survey also showed that households did not see this bout of inflation coming.
The October 2020 poll put both one-year and three-year-ahead inflation at 2%, where they have generally hovered since the survey was launched in April 2020.
This confirmed that households are poor at predicting inflation, a long known fact in the economic profession.
But it also showed that the ECB had managed to anchor their expectations around its official goal, which may give ammunition to policy hawks who want to wind down the ECB's bond-buying programmes.
The ECB interviewed around 10,000 consumers in Germany, France, Italy, Spain, the Netherlands and Belgium using an online poll.
The survey has been carried out monthly but this was the first time some of the results have been made public.